London new destination for China Southern's 787 planes
London was the first destination chosen by China Southern Airlines Co Ltd to operate its new Boeing 787 planes, indicating the United Kingdom market's importance for the airline.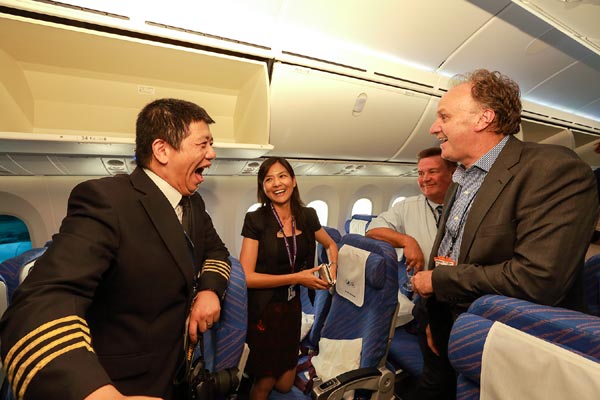 Chief Pilot Hu Wei shares a happy moment with passengers during an in-flight reception to celebrate China Southern's maiden fl ight of the 787 Dreamliner to London on Tuesday. Xie Songxin / China Daily
The new planes will fly non-stop between London's Heathrow Airport and Guangzhou's Baiyun International Airport.
"We value this route highly. Not only is it important for our Guangzhou customers, it's also used frequently by customers traveling to Oceania with connecting flights in Guangzhou," said Hu Wei, chief pilot of China Southern's 787 planes.
He added that the carrier ordered 10 new 787 planes from Boeing. The planes already went through a brief trial on China Southern's domestic routes to familiarize the pilots with the aircraft, before being assigned to international flights.
Hu said that about 60 percent of the passengers traveling on the London-Guangzhou route will then transfer to connecting flights, so it's the carrier's ambition to make Guangzhou a hub serving nearby Asian and Oceania locations.
"As it's necessary for passengers going from London to Oceania to transit somewhere, we must do our best to offer a good flight to Guangzhou, so they choose to transit in Guangzhou and not in other places, like Dubai for example," Hu said.
He added the timing of the airline's move coincides with Guangzhou being allowed by the Chinese government last month to receive tourists for 72-hour visa free visits, a special status, which had only been granted to Shanghai and Beijing previously.
Under the new regulation, tourists traveling on to other destinations can stay in Guangzhou for up to 72 hours, which makes the city even more attractive as a transit destination.
China Southern launched its maiden London-Guangzhou flight in June 2012, operating three flights a week at the time.
The move was timed to coincide with the London Olympics because a large number of Chinese tourists visited the British capital.