Inland region 'key' to growth
East-to-west drive is latest government move, says Li
Premier Li Keqiang has identified China's inland areas as "the biggest space" for the nation's development.
Li made the remarks in a pavilion tour during the 10th China-ASEAN Expo in Nanning, capital of the Guangxi Zhuang autonomous region.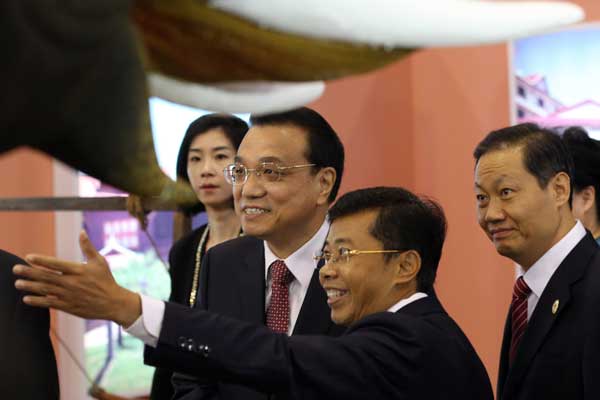 Premier Li Keqiang visits the Thailand hall at the 10th China-ASEAN Expo in Nanning, in the Guangxi Zhuang autonomous region, on Tuesday.[WU ZHIYI / CHINA DAILY]
The city serves as a key gateway connecting China and its neighbors to the southeast.
The east-to-west shift is the trend for economic development, said the premier, as China's opening up follows the path that extends from the coast to the inland regions.
While maintaining the quality of growth in coastal areas, Li said much attention should be paid to exploring the possibilities of development in inland areas.
"It is therefore an inevitable choice to bolster the development of the three emerging economic powerhouses: the old northeast industrial bases, the middle and western regions adjacent to the Yangtze River and the southern and middle-western hinterlands," Li said.
The premier voiced the hope that the northwest areas will also become new frontiers in the regional opening up.
He called for the creation of favorable conditions to promote synergy among the eastern, middle and western parts of the country, so that regions complement one another and build on their respective advantages.
Li said he placed high hopes on unlocking the potential of the middle and western areas, which should play an active role in the westward migration of industries, and pushing ahead the opening of domestic and international markets.
Accompanied by local government authorities and residents, Li on Tuesday began his first trip as premier to the 10th anniversary expo, which attracted more than 2,300 companies from China and the Association of Southeast Asian Nations. The expo has become an important platform to promote trade and relationships.
With Li at the wheel, a simulated transportation graphic portrayed a dense network of cruise routes connecting Guangxi's Qinzhou port and 10 ports around ASEAN.
Better connectivity between China and ASEAN can only be achieved through intensified infrastructure development, which removes the final barrier to technology transfer and person-to-person contact, said Huang Hao, sales director of Guangxi Sacred New Energy Co Ltd, who was present at the event.