Chengdu visa-free policy to lure more tourists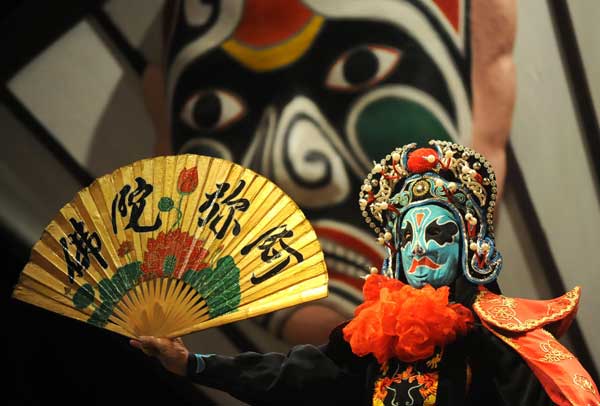 A demonstration of face-changing skills during a Sichuan opera performance at the Temple of the Marquis of Wu in Chengdu. Performers change one mask to another in the blink of an eye, using secret techniques known only to themselves. Xue Yubin / Xinhua
In comparison, Hangzhou, the capital of Zhejiang province with a population of 8.8 million, received more than 3.3 million overseas tourists in 2012.
Robert Barsby, a British hotelier in Chengdu, said the visa-free policy will enhance the city's international image. He said it would be convenient for international business travelers to visit the city or access it in transit.
Shuangliu International Airport in Chengdu, the fourth largest in China in terms of passenger traffic, has 22 direct flights to 16 countries and regions around the world. The number of people passing through China via the airport is expected to surpass 2.3 million at the end of this year.
Luo Xiaohu, an officer with the Sichuan Armed Police Frontier Corps, said a major reason why Chengdu was chosen as the first city in an inland region to adopt the visa-free policy is because it has more international flights than any other city in central and western China.
Several foreign general managers at international five-star hotels in the city said they believe the policy may boost the hospitality industry, which has been sluggish since the country's new leadership discouraged government officials from extravagant galas and events this year.
Through the first half of this year, six international five-star hotels in the city, including Shangri-La, Regal Master and the Kempinski, lost 60 million yuan ($9.77 million) in room bookings, compared with the same period last year, said Barsby, general manager of the Regal Master Hotel in Chengdu, who has lived in China for almost 20 years.