Chengdu visa-free policy to lure more tourists
Zhu Zhangyi is excited that his hometown, Chengdu, Sichuan province, will become the fourth Chinese city after Beijing, Shanghai and Guangzhou to adopt a 72-hour visa-free policy.
"I'm sure it will bring more overseas tourists to Chengdu," said Zhu, deputy curator of the Jinsha Site Museum.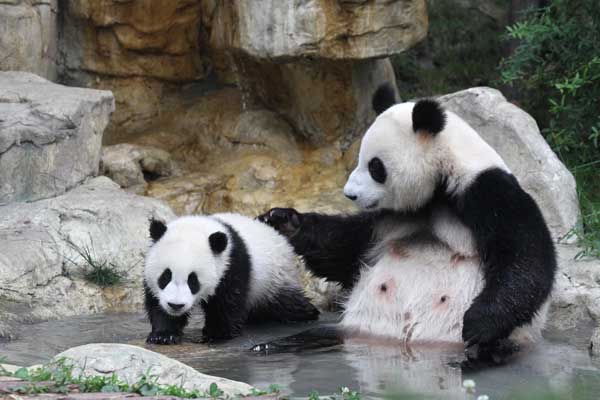 Pandas frolic at the Chengdu Research Base of Giant Panda Breeding in Sichuan province. Zhu Xingxin / China Daily
The policy, which will go into effect on Sept 1, will allow transit passengers from 45 countries who have valid visas and a flight ticket to a third country to stay up to 72 hours in Chengdu and cities and counties under its administration, according to the city government.
Those who overstay their visit may be fined, detained or deported from the country, said Chen Yongzhi, deputy chief of Sichuan Armed Police Frontier Corps.
When the policy is implemented, Chengdu will be the first city in an inland region of China to adopt the visa-free plan.
With a population of more than 14 million, the provincial capital of Sichuan received 122 million tourists last year. Around 1.6 million came from abroad, according to government figures.
Tourists have frequently visited the Jinsha Site Museum, located next to the archaeological site of the same name, since it opened in 2007. "Each year, about 1.2 million people visit our museum. But it is regrettable that fewer than 100,000 are from overseas," Zhu said.