'No worry' on wheat imports
Weather likely to cut harvest in key provinces
China's growing wheat imports could soon make it the world's top importer, although such a change is not expected to push global wheat prices higher, industry experts said.
Frost in spring and wet weather in May and June will cut China's wheat output by 2.6 million metric tons to 118 million tons in wheat-producing provinces such as Henan, Anhui, Jiangsu and Shaanxi this year, said a report released by the foreign agricultural service of the US Department of Agriculture.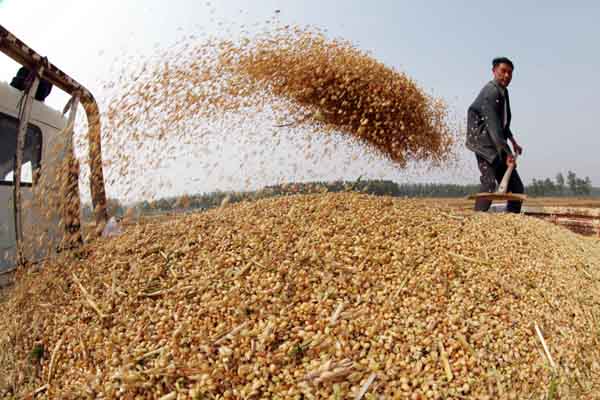 Bad weather is expected to lower China's wheat output by 2.6 metric million tons this year in provinces such as Henan, Anhui, Jiangsu and Shaanxi. The output will be 118 million metric tons.SI WEI / FOR CHINA DAILY
China has long maintained its food security by producing 95 percent of its grain consumption. However, the nation's growing demand for wheat imports is causing some concern that China is likely to replace Egypt to become the world's largest wheat importing nation.
But Ding Shengjun, a senior researcher at the Academy of the State Administration of Grain, said China's rising wheat imports aim to refurbish its inventories, which are aging and need to be replaced with better quality wheat.
China Grain Reserves Corp, which manages China's central government reserves, began to renew its stock and use the previous wheat stores for feed in May.
The country's wheat imports nearly tripled to 3.68 million tons in 2012 compared with the previous year, according to the General Administration of Customs.
Abdolreza Abbassian, a senior economist at the Food and Agriculture Organization of the United Nations, said people should be aware of the enormous difference between China and Egypt.
"While Egypt imports almost 50 percent of its domestic consumption requirements, wheat imports by China, even if they were to increase to 8.5 million tons, that would still represent no more than 7 percent of its total domestic requirement," said Abbassian.