Local govts' fiscal revenue growth slows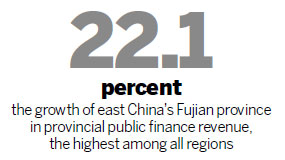 Property boom helps provinces, cities hit half-year targets, despite slowdown in the overall economy
Local governments' fiscal revenue in the first half of this year generally slowed down compared with a year earlier but its growth was much faster than that of the central government because of surging housing-related revenues.
So far, 31 provinces, municipalities and autonomous regions across China's mainland have released their half-year fiscal reports. Although all have fulfilled their six-month targets, growth has significantly slowed, providing evidence of the slowing economy's toll on tax revenue.
East China's Fujian province recorded a 22.1 percent year-on-year growth in provincial public finance revenue, the highest growth among all regions. It was followed by southwest Yunnan province, which grew 20.5 percent.
In terms of absolute size, Guangdong province still led the country with a 348.3 billion yuan ($56.92 billion) half-year revenue, up 16.34 percent over a year earlier. It was followed by Jiangsu province, which grew 13.2 percent in the period.
Nationally, China's local fiscal revenue in the first half grew 13.5 percent to 3.628 trillion yuan, down from 14.4 percent growth a year earlier. But the growth of local fiscal revenue was well above the central government's 1.5 percent gain.
China's eastern regions maintained a steady revenue growth, while the figures for central and western regions generally fell to more than 10 percent. It was higher than 20 percent just two or three years ago.
For example, Guizhou province's fiscal revenue grew 17.3 percent year-on-year in the first half, down from 25.7 percent just a year earlier. Resource-rich Shaanxi province recorded a 12.62 percent growth, down from 26.6 percent a year earlier, affected by plunging coal prices.
While inland regions struggled, coastal regions maintained a steady growth rate, thanks to a booming property market in the first six months.
In Shandong province, brisk property transactions sent the province's fiscal revenue up to 253.6 billion yuan, a rise of 12.5 percent over a year before. Tax collected from the housing market totaled 43.2 billion yuan. Although it only contributed 17 percent of public finances, it accounted for 53.7 percent of the increment.
Guangdong's robust growth in revenue also relied on property. Housing-related tax contributed to 50 percent of the increment, according to provincial finance department.
"Real estate-related tax actually makes up a relatively small portion of the local government's public finance revenue but it contributed to a much higher proportion of the increment," said Bai Jingming, deputy director of the Research Institute for Fiscal Science under the Finance Ministry.