No crisis over local governments' debts
Economists from China's top planning agency on Thursday ruled out the possibility of a major crisis in local government debt as the country begins a national audit into the situation.
"The bankruptcy of city governments such as Detroit in the US will not happen to China, because the Chinese economy is still on an overall upward track," Song Li, deputy director of the Institute of Economics Research under the National Development and Reform Commission, said at a news conference in Beijing.
China's local governments have enough equity to cover their borrowings, he said, explaining that local government debt was mainly in the form of high-quality assets, such as transportation and affordable housing projects.
"The major challenge at the moment is how to better manage liquidity to tackle a mismatch of funds, rather than to make debt payments, so there is not really a crisis."
But Song said the financing methods used by local governments need to be reformed. "The best way is via debt issuance, not just bank loans."
Wang Yiming, vice-president of the Academy of Macroeconomic Research at NDRC, suggested coastal areas with their better financial status could be selected as pilot areas for such debt issuance.
The statements were made after the National Audit Office declared on Sunday that from Aug 1, it would start a nationwide assessment of government liabilities, which will address concerns about rising debt from over-ambitious development projects.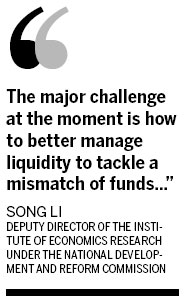 This audit will be the third of its kind since the first one was carried out in 2011. It is expected to get a grip on the scale of China's debt. Some observers think it is one of the major threats to the world's second-largest economy.
Dong Dasheng, deputy head of the National Audit Office, said in March that China's government debt at all levels was between 15 and 18 trillion yuan ($2.45 trillion to $2.94 trillion). But other estimates, such as a recent one made by the International Monetary Fund, put the figure at 45 percent of the country's gross domestic product - more than 20 trillion yuan.
Slowing growth in fiscal revenue is also adding to concerns over the ability of local governments to pay off debt. In the first half of the year, government income at all levels grew 7.5 percent, 4.7 percentage points lower than a year earlier, and was even slower than the increase in GDP of 7.6 percent.
"With decelerating fiscal revenues, fewer land sales coming up and an upcoming peak in debt repayment, local governments may face increasing debt risks," Wang said.
Moody's Investors Service said in a report on Thursday that the NAO's move was positive because it will improve the limited transparency of the amount of local government debt and clarify the potential burden that could fall on central and local governments.
"However, a thorough accounting process may reveal that local governments carry a debt burden that impairs their finances and indirectly burdens the central government finances," Moody's said.
The agency believes this would result in the central government imposing additional restraints on borrowing by local government financing vehicles, which may trigger related liquidity pressures.
"Moreover, balance sheet adjustments by local governments would mean a curtailment of investment and add further downward pressure on the slowing pace of China's economic growth," it said.
Hong Hao, a senior researcher with Bank of Communications, said China's debt level is severe but is not about to burst because an ability to service debt matters more than the level of debt.
Hong said yields on one-year local government bonds remained at below 4 percent after a surge to that level during the 2011 European debt crisis thanks largely to the June liquidity crunch. "This is 50 basis points above that of (Chinese) Treasury bonds with the same maturity and indicates the market believes local governments in general remain credit-worthy," he said.
Chen Jia in Beijing contributed to this story.