Frank Facts on Frankenfoods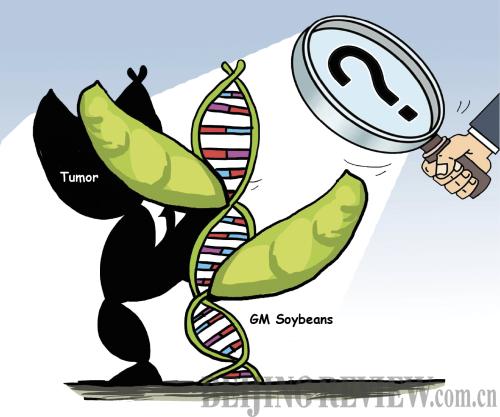 A cartoon depict possible correlation between GM soybeans and cancer. [photo/CFP]
A reported correlation between genetically modified (GM) soybeans and cancer is the focus of the latest debate over food safety in China.
Areas with the highest incidence of cancer consume the most GM soybean oil in China, including provinces Henan and Hebei and eastern coastal areas Shanghai and Jiangsu, according to Wang Xiaoyu, Deputy Secretary General of the Heilongjiang Soybean Association.
China Central Television reported Wang's research on its website, Cntv.com, on June 20. Wang said that his findings were based on the annual report on China's cancer registry in 2012.
"For example, the gastric cancer occurs frequently in Jiangsu that processes the most GM soybeans across the country. Its neighboring Shandong province, where the people mostly consume peanut oil, is not a high-incidence area of cancer," Wang said.
According to Wang, more than 90 percent of soybean oil, a major edible oil for Chinese consumers, is made from imported transgenic soybeans. China now produces only non-GM soybeans.
In response, Yang Xiaoguang, a researcher with the Institute of Nutrition and Food Safety at the Chinese Center for Disease Control and Prevention, said that GM foods licensed globally have all passed safety assessments and there are no experimental data indicating GM foods can lead to cancer.
"Americans consume more GM soybeans than Chinese do. But there has not been a big increase in cancer patients in the United States since GM soybeans have become part of every American's daily diet," said Zhu Yi, an associate professor of food science at China Agricultural University.