Global electric car sales stall despite industry's growth
Experts cite concerns about price, charging times and batteries running out as obstacles for buyers
The global automobile industry's resurgence underscores the need for nations to act promptly to combat air pollution, as electric vehicles - a "green" transportation alternative pushed by China's leaders - have been slow to catch on with the general public, according to a new report by the Worldwatch Institute.
"These trends may be good news for the automobile industry, which now sells a third more vehicles than just three years ago," said Michael Renner, who co-authored the report for the independent Washington-based research organization. "But the same trends magnify environmental challenges. Automobiles are major contributors to air pollution and greenhouse gas emissions."
The world auto market's upswing is partly due to more competitive labor costs and restructurings that have made auto plants in the United States tougher global competitors after a sharp decline tied to the US credit crunch and economic downturn.
London-based consulting firm IHS Automotive said early this year that global passenger-car production in 2012 climbed 6.6 percent from 2011 to a record 66.7 million vehicles. Global output could rise another 2.4 percent this year, to 68.3 million vehicles, the firm estimated. Including light trucks, total light vehicle production rose 6 percent from 76.9 million in 2011 to 81.5 million in 2012. Light vehicle production is projected to reach 83.3 million in 2013, up 2.2 percent from a year earlier.
China - the world's largest automobile market - alone produced 18.2 million light vehicles last year, IHS said. That was as many as the US, the No 2 automaker, and Japan, No 3, produced combined.
Although the report found that a global desire to reduce oil dependency, air pollution and greenhouse gas emissions have increased the prominence of alternative vehicle propulsion technologies, it said just 180,000 vehicles - or a "minuscule" 0.2 percent of the world's passenger cars - are electric vehicles.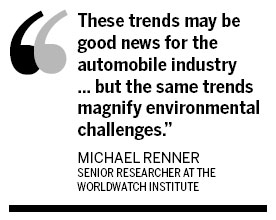 The largest electric vehicle fleets, it said, are in the US, Japan, France and China. Relative to population, the Netherlands, Japan, France and Denmark have the largest number of electric vehicles. Norway, with the fifth-largest fleet of electric vehicles, also has the greatest density of such vehicles among nations - 200 for every 100,000 residents.
Recent spells of thick smog in Beijing and other Chinese cities have refocused attention on low-emission vehicles as a way to rid China of a hazard to both human health and the country's economy. The State Council has called on the domestic auto industry to achieve production and sales targets of 500,000 pure-electric (battery-powered) and plug-in hybrid vehicles by 2015 and 10 times that number by the end of the next decade.
Industry observers say buyers hesitate to commit to electric vehicles due to concerns about price, battery charging times, and the risk of running out of charge on a long trip.
Worldwatch China Program manager Ma Haibing said broader adoption of electric vehicles will not fix China's pollution problem.
"Even the introduction of clean energy vehicles can't change the trend at this stage," he said. "In China's case, the introduction and development of electric vehicles has been very slow, and the market hasn't been ready for the introduction of that kind of vehicle."
Although China's newly wealthy residents can afford high-priced electric vehicles, "their aim is not (to own) electric vehicles but more traditional fossil-fuel vehicles", Ma said. "So in China's case, the emissions will grow for the foreseeable future."
He added the country needs to channel some of its clean energy investment into emissions controls at coal-fired generating stations.
"If the country is heavily relying on coal-fired plants to produce its electricity, I don't see any benefit of increased demand for electric vehicles," Ma said.
The report said the cumulative number of hybrid vehicles sold worldwide as of early 2013 was about 6.3 million. Hybrids, which use both a conventional internal combustion engine and an electric motor, also include plug-in hybrid electric vehicles, battery electric vehicles and fuel-cell electric vehicles.
michaelbarris@chinadailyusa.com
(China Daily 07/04/2013 page14)