Luxury restaurants adapt to hard times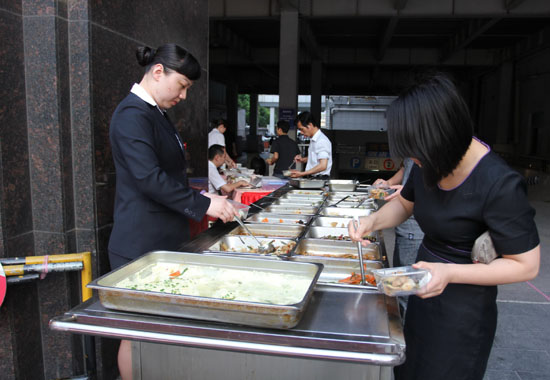 Wuhan Huatian Hotel offers an outdoor buffet to passers-by as the five-star hotel tries to beat declining sales in the high-end catering sector in the wake of the government crackdown on extravagant banquets using public money. [Photo/China Daily] 
China Quanjude Group - the owner of Beijing's renowned roast duck restaurant - was so popular for so many years that it didn't need to have promotional items on the menu.
But that has changed. To cope with the slowest growth seen in the catering industry in a decade, the restaurant now offers a 20 percent discount to customers who eat on the premises, according to Xing Ying, general manager of China Quanjude Group.
Their new dishes have also seen dramatic changes to adapt to the declining revenues plaguing the industry.
Six out of 10 new dishes developed in the first quarter are priced below 45 yuan ($7.30), and nine out of 10 are under 84 yuan, in a bid to attract more individual customers, said Yan Dajian, with the technology and research department of Quanjude Group.
Even the 136-year-old restaurant chain had to adapt to survive the hardest time for high-end catering companies in the country after the government launched a nationwide crackdown on graft and wasteful spending in December.
Greatly affected by the campaign, China's catering industry is seeing its slowest growth rate in the last two decades, the China Cuisine Association said on Friday.
In the first four months of the year, the sales revenue of the country's catering industry was 771.2 billion yuan, up 8.3 percent year-on-year, but 5 percentage points down from the same period last year, according to the association.
"The growth rate plunged to the slowest point since 1991," said Su Qiucheng, head of the China Cuisine Association.
"The slump in the industry is happening since late last year, and some medium- and large-sized restaurants even posted negative sales growth."
According to the association, the revenue of high-end restaurants in Beijing, Shanghai and Chengdu was down at least 20 percent during this year's Spring Festival compared with last year.
Many top catering companies had to close branches or change their menus.
In May, Shanghai's Meilinge Restaurant Chain closed its branch in Yuetan in western Beijing, an area adjacent to major government offices.
"Business was greatly hit at our restaurant," said Ren Xiuqin, general manager of Laolaofu Seafood Hotpot, one of the top hotpot restaurants in Beijing. "Spending has decreased at least 60 to 70 yuan per head."
Chen Junhai, an executive at Wangshunge Restaurant Group, said that about 30 percent of its income comes from business customers hosting luxury banquets to entertain VIP guests. So the move to eradicate publicly funded extravagance has been a big blow for them.
Some leading high-end catering businesses now face being plunged into the red as a result.
Beijing Xiangeqing Co Ltd said that its first-quarter financial loss may reach 55 to 70 million yuan, compared with a net profit of 46.23 million yuan during the same period last year.
ShunFung and Jingya restaurants, another two high-end eateries, withdrew their initial public offering applications earlier this year, citing the adverse situation.
According to the association, the growth rate for the top 100 restaurants in China was 16.8 percent in 2012, a year-on-year drop of 11.52 percentage points.
Su said that this year has been a turning point for the catering industry as public spending on banquets decreased in a short time and many had to reshuffle their businesses.
Xiao Yujia, a catering industry analyst with research firm CIConsulting, said the nationwide policies are having a more severe impact in second- and third-tier cities than in first-tier cities, where public spending is joined by business groups and individuals at high-end restaurants.
He said the lackluster performance of luxury restaurants is the result of their over-dependence on groups using public funds.
Therefore it's inevitable that catering companies have to expand their low- and medium-end businesses targeting business and individual customers, he said.
Bian Jiang, assistant director of the China Cuisine Association, said that the habit of offering extravagant banquets to business clients is deeply rooted in Chinese culture and will not be erased overnight.
"China's catering industry has entered a new era of steady development after 20 years of dramatic expansion. It's a good time for restaurant operators to try out new menus, improve efficiency and service levels," said Ren Xingzhou, director of the Market Research Institute of the State Council Development Research Center.
XE Flavour - a listed high-end restaurant that has seen its first-quarter revenue slump 33.31 percent year-on-year - now wants to cater to family occasions.
In February, its restaurants started offering lower-priced dishes and have scrapped some high-end dishes with seafood.
Jingya Group, a top restaurant chain, said that its per capita revenue for business banquets has decreased at least 30 percent since the end of last year despite steady customer volume.
"We're one of the high-end restaurants hit by the recent government policies," said Ma Yuming, a marketing executive at Jingya Group. "We have to make strategic changes to diversify our business and target individual consumers."
Early this year, the group bought a business that sells fast food near subway stations and offers convenient food spots to community residents. Jingya plans to expand that service to 200 places in Beijing this year.
Hotpots - a popular dish among Chinese restaurant goers - are also on their agenda to lure more individual customers.
"Our goal is to have 80 percent of our operations serving general consumers and the rest catering to business banquets," Ma said.