Eyeing global appeal of local music
The company has signed more than 300 songwriters on the mainland this year. Henderson claimed he is yet to catch sight of any Chinese writers who have enough international competitiveness and global influence.
But with the market maturing, it is only a matter of time to see Chinese artists working with international music and producing popular records in bigger markets over the next three to five years, he added.
"I think a good writer should remain loyal to his or her domestic market. If you try too hard to write for other countries or try too hard to develop music to be sold in other territories, that's where you end up stuck in no-man's land where the domestic market will not appreciate you and the international market doesn't understand you," Henderson said.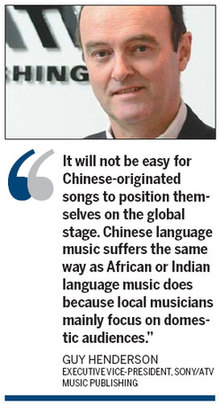 Henderson added the language barrier does not necessarily prevent local artists from attaining global success. "People would sit in opera houses around the world listening to Luciano Pavarotti with tears running down their cheeks and not understanding a word he sang."
Henderson began his career in the music business in 1993 as financial director for Sony Music's South African licensee, Gallo Record Co.
He started Sony Music South Africa in September 1995 in Johannesburg. Under his five-and-a-half-year reign, the company's market share surged to the nation's top and booked nearly all the licenses for international songs while developing a big local repertoire.
Henderson then got involved in setting up the Sony Music South Africa Publishing Co in 1998, his first experience in the publishing sector.
Working in publishing and record businesses was a totally different experience, Henderson recalled. Publishing work is more complicated because the executives have to handle a global network and you have to share copyrights with other interested groups. "However, in the record business you can 100 percent focus on your own artists," he said.
Sony/ATV's latest big move came last summer when a Sony/ATV-led group completed a $2.2 billion acquisition of EMI's publishing division. The merger cemented the company's lead in the global music publishing industry.
Henderson said despite some expected "ups and downs", the overall atmosphere of the new entity was "good".
He said the company will need more time to digest one of the biggest mergers in music history before looking for new firms to purchase.
Copyright issue
Henderson is no stranger to the entertainment industry because his parents were professional ballroom dancers giving global tours and he "had music around the house" when he was young.
Used to playing "some" drums, Henderson decided that his destiny was in the business of music instead.
His favorite band is Steely Dan, a US rock band that local pop culture magazine Rolling Stone described as "the perfect musical antiheroes for the 1970s". Yet he is careful not to let his personal interest interfere with his business.
Also
Music download payments 'inevitable' in China
Free online music deadline revealed
Free online music coming to an end?