Exporters hit hard by rising yuan
By Zheng Yangpeng in Beijing, Yu Ran in Shanghai and qiu quanlin in Guangzhou | China Daily | Updated: 2013-05-18 02:29




For Xia Guangyao, chairman of Wenzhou Jialunte Textile & Finery Co Ltd in Zhejiang province, 2013 has been the worst of the past five years for his business.
The number of orders from the United States and European countries was expected to be 50 percent lower than 2010, even a bit lower than 2012, he said. The average amount of a single order was also cut from 1,000 units to 500 as market demand in the US and Europe remained low, which slashed the profit margin from 15 percent to about 8 percent.
Xia said the dwindling amount of orders from overseas since last year was the major challenge. The continuous appreciation of the yuan further ate into the profit margin.
Exporters in Guangdong province, an export powerhouse, have also felt the pinch of rising yuan value.
Chen Yanping, assistant general manager of Guangzhou Fine Horse Leather Co, said the company had to increase the price of its products for new orders, especially those to be shipped to Japan due to the quick currency appreciation.
"Now we only accept short-term orders within three to six months," Chen said.
Chen said his company had to increase the price of products to offset the loss brought about by the rising value of the yuan against the dollar and the Japanese yen.
Zhao Wei, a senior sales manager of TCL Lighting Electrics Co, said his company had planned to break its traditional reliance on sales agents and build its own marketing channels in Japan. But now it has to delay the plan due to the rising appreciation of the yuan against the Japanese yen.
For Chinese exporters who have been facing sluggish demand from European and US markets since last year, the rising yuan added another burden.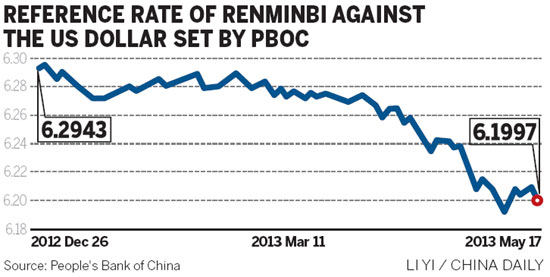 According to the latest data from the Bank for International Settlements, the yuan's exchange rate index in April was 115.24, or 0.88 percent higher than in March.