Beijing to get new media center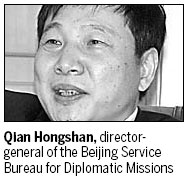 A comprehensive media center will be built by the Beijing Service Bureau for Diplomatic Missions by 2015, facilitating the work and life of the increasing number of foreign journalists in China.
Qian Hongshan, director-general of the bureau, told China Daily in an exclusive interview that the bureau will renovate the Diplomatic Residents Compound (DRC) in Jianguomenwai in Beijing and establish a new media center that will combine a work area and accommodations.
"China's rapid development has drawn more attention around the world. Foreign media are sending more journalists to China and recruiting more Chinese staff members. So there is the need to build more compounds for them,", Qian said.
"The facilities in the Jianguomenwai DRC are old and cannot fulfill the present needs of journalists and other diplomats. For example, the Internet speed is not fast enough for modern journalists. So it needs to be renovated."
The DRC in Jianguomenwai, one of the earliest diplomatic compounds in Beijing, was built in the 1970s and 1980s. Many foreign media are based in the Jianguomenwai DRC. Because of the time differences, foreign journalists often work at night.
"The new media center will offer two-room units for the journalists. They can both work and live in one unit, which can make their work and life more efficient", Qian said.
He added that the media center will also build a good communication portal among the journalists, so that they can better share information.
Qian said the media center will also be equipped with conference rooms, shopping malls and other facilities that can make the life of foreign journalists easier and more comfortable.
Meanwhile, the bureau's Beijing Housing Service Corporation for Diplomatic Missions capped a comprehensive office building near another DRC in Liangmaqiao in Beijing on Wednesday.
As a supplement for the Third Embassy Zone in Beijing, the building will offer working places and entertainment center for foreign embassies and institutions.
Many nations' embassies have showed an interest in getting space in the building, Qian said.
There are three embassy zones, with Qijiayuan DRC and Jianguomenwai DRC in the first, Sanlitun DRC and Tayuan DRC in the second and Liangmaqiao DRC in the third.
These embassy zones cover 1.4 million square meters, with embassy premises and five diplomatic residence compounds featuring a total floor space of 1.2 million square meters, including 133 independent embassy premises, three office buildings, 44 small villas and townhouses and 41 diplomatic apartment buildings.
In total, 2,400 residences and office apartments are available for rent.