Tencent performs well in Q1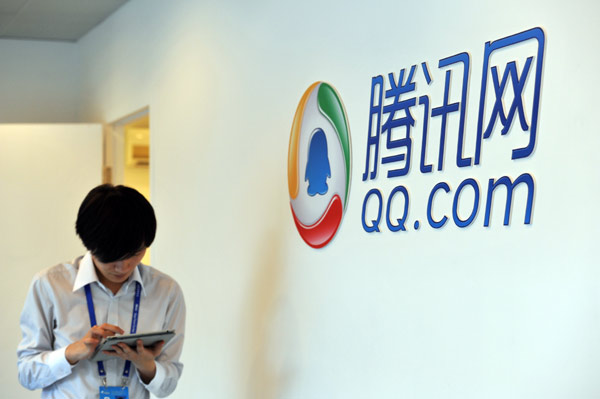 An employee stands in front of the logo of QQ.com during the Boao Forum for Asia in Hainan province on April 16. Tencent Holdings Ltd posted first-quarter profit that beat analyst estimates on higher advertising sales and market share gains at its e-commerce business. [Photo/China Daily]
Company's mobile games achieve more than 50% growth in revenue
Tencent Holdings Ltd, China's largest Internet company by revenue, released strong first-quarter results on Wednesday and posted high growth in app subscriber numbers.
Net income rose 37.1 percent to 4.04 billion yuan ($657.9 million) at the end of March this year compared to the same period in 2012, while it showed a 16.8 percent increase from 3.46 billion yuan at the end of last year, said the Shenzhen-based company known for QQ, China's most popular instant messenger.
"Tencent's first-quarter results are ideal. In terms of quarter-on-quarter growth in net profit, it beats our earlier single-digit estimates," said Kenny Tang Sing-hing, executive director of AMTD Financial Planning Ltd.
WeChat, Tencent's free instant messaging app for mobile devices also known as Weixin, saw the number of its active monthly users jump to 194.4 million in March from 59.2 million the same time last year, representing 228 percent annual growth.
"We are integrating new services into Weixin to explore emerging business opportunities on the mobile Internet. In addition, we will continue investing in user acquisition activities for WeChat in international markets," the company said on Wednesday.
WeChat has more than 300 million users, many of which are in Hong Kong and Taiwan.
According to an earlier report, Tencent is building a "mobile game platform" to combine mobile game services with WeChat.
"The mobile Internet market has strategic importance and is where all the new growth will come from," said Tang.
"Conquering that will not be difficult for Tencent because it enjoys a huge user base. It's easier for them to roll out any value-added services such as games. As the company provides an all-round service package - including instant messaging, games and social media, it should attract higher customer loyalty and more frequent visits than any other market player."
Tencent's share price rose 1.7 percent to HK$274.40 at the close in Hong Kong prior to the earnings announcement. The stock has so far gained 10 percent this year, outperforming the 1.7 percent advance in the benchmark Hang Seng Index.
According to Tencent's statement, QQ had 825 million active monthly users at the end of the first quarter, an increase of 10 percent year-on-year.
"During the quarter, we continued to experience a significant increase in mobile users as smartphone use expanded rapidly. We aligned the product teams of the PC and mobile versions of QQ to ensure unified user experiences across different platforms," the company said.
Tencent's mobile games achieved more than 50 percent revenue growth year-on-year, which the company attributed to "increased smartphone adoption and our enriched mobile games portfolio".
Tang added: "While users are moving from PCs to mobile devices, the frequency they use it will increase as everybody carries mobile phones with them. Given that, Tencent's mobile Internet business will experience even greater growth. I expect it to achieve 20 to 30 percent growth in net profit this year."