Foreign trade prospects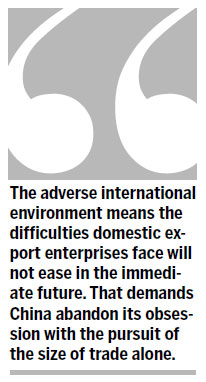 China must accelerate pursuit of technological innovations and improve product quality to compete in global market
Despite a recent export and import recovery, China still needs to improve the quality of its exports as a way to boost its struggling foreign trade in the international market where there are lingering uncertainties.
China's import and export volumes totaled 6.12 trillion yuan ($975 billion) in the first quarter, an increase of 13.4 percent year-on-year, statistics from the General Administration of Customs indicate. Of the total value, exports accounted for 3.2 trillion yuan, up 18.4 percent on the previous year, while imports rose by 8.4 percent to 2.9 trillion yuan. The trade surplus in the three months also increased from less than 1.3 billion yuan during the same period of last year to 270.5 billion yuan.
The government has long regarded expanding foreign trade and investment as two major drivers of growth in the context of China's insufficient domestic demand. But with the expansion of investment growing increasingly unstable in recent years, the government has shifted its macroeconomic focus to boosting domestic demand. However, it has made little substantial progress, so it still hopes that foreign trade will be able to bolster the country's economic growth.
The first-quarter foreign trade growth came amid a continuous decline since the onset of the global financial crisis, and it is indeed good news to China's decelerating economy, as its full-year foreign trade grew by only 6.2 percent in 2012.
However, such a good-looking bounce doesn't mean China has completely extricated itself from the downturn of recent years, as it is an upswing from the lower volume of foreign trade experienced in the last few years as a result of the serious international market contractions caused by the global financial crisis. In this sense, the first-quarter growth should be regarded as a recovery; it remains to be seen whether the momentum can be maintained.
The sluggish global recovery will be a drag on China's efforts to expand exports. Due to several rounds of quantitative easing, demand in the United States has rebounded, which has to some extent promoted increased exports from China to the US, and last year the US replaced the European Union as the largest market for Chinese exports. Many countries in the EU are still plagued by a sovereign debt crisis, causing a continuous decline in their purchasing power and demand for Chinese products. Meanwhile, the ongoing dispute with Japan over the Diaoyu Islands has caused a decline in bilateral trade with another major trading partner.
To spur their own economic revivals, the US, the EU, Japan and other major economies have raced to launch quantitative easing policies, causing continuous depreciation of their currencies. This has added exchange rate pressures to China's foreign trade enterprises. For domestic export-oriented enterprises, the appreciating yuan has resulted in a continuous decline in their profits. Such pressures will not subside if the yuan's upward trend does not change.
A long-standing trade surplus has aided China's economic development, but for other countries and regions it has been the source of discontent, fuelling increased frictions and trade rows. To change this, China has worked to adjust its previous export-oriented foreign trade policy in an effort to strike a balance between imports and exports and create a relaxed and friendly international market environment for its enterprises. At the Boao Forum for Asia Annual Conference 2013, President Xi Jinping said that China will have $10 trillion worth of aggregate imports within five years, which will offer enormous opportunities for its trade partners and offset its own exports.
Theoretically, the first-quarter foreign trade recovery is a reflection of China's economy recovering. However, the 7.7 percent GDP growth in the first quarter is lower than expected. The slowed economic pace, together with a year-on-year decline in the March producer price index and the volume of rail freight, as well as a near-zero growth in power consumption, indicates that China's economy is still facing downturn pressures, although the measures adopted to stabilize growth since the latter half of last year have had some effect. But the continuing lack of a competitive edge in the international market will put further pressure on Chinese enterprises in the future.
In the past, the government has increased support to export-oriented sectors to make up for the country's lack of domestic demand. However, the adverse international environment means the difficulties domestic export enterprises face will not ease in the immediate future. That demands China abandon its obsession with the pursuit of the size of trade alone and accelerate pursuit of technological innovations and improve the quality of its commodities to win market share.