Sino-Gulf FTA 'may be signed this year'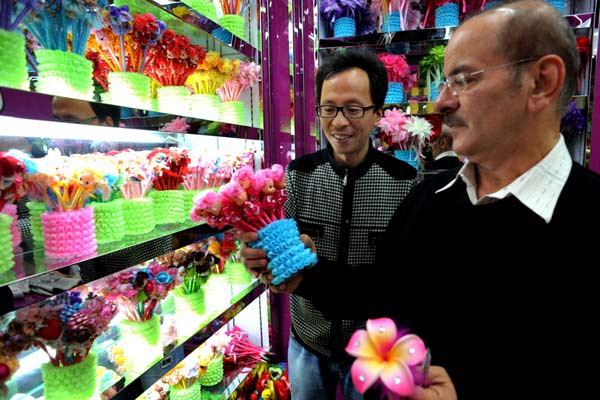 A purchasing agent from the United Arab Emirates looks at pens at Yiwu International Trade City in Zhejiang province. China is the UAE's second-largest trading partner, with trade between the two countries valued at $40 billion in 2012, according to UAE embassy data. Zhang Jiancheng / for China Daily 
Deal will further boost trade ties, says UAE envoy
A free trade agreement between China and the Gulf Cooperation Council may be concluded this year, the United Arab Emirate's ambassador to China told China Daily.
"We are near to achieving the FTA between the GCC and China, with a few items including tariff issues to be resolved soon thanks to strong bilateral will," Omar Ahmad Adi Al Bitar said.
The envoy added that he hopes this year will not pass before the two sides conclude the agreement.
Established in Abu Dhabi in 1981, the GCC is a political and economic union of Arab states comprising the United Arab Emirates, Bahrain, Saudi Arabia, Oman, Kuwait and Qatar, accounting for more than 60 percent of the trade volume between China and the Arab League.
China and the GCC launched free trade agreement negotiations in 2004, with both sides reaching consensus on most areas of goods trade after four rounds of talks. Discussions on service trade are continuing.
Trade between China and the GCC mainly centers on the oil, mechanical and textile sectors.
Data from the Ministry of Commerce show that Sino-GCC trade totaled $133.8 billion in 2011, accounting for 68.3 percent of trade between China and the Arab League. By the end of 2011 bilateral investment reached $4.1 billion.