China urges US to reduce investment barriers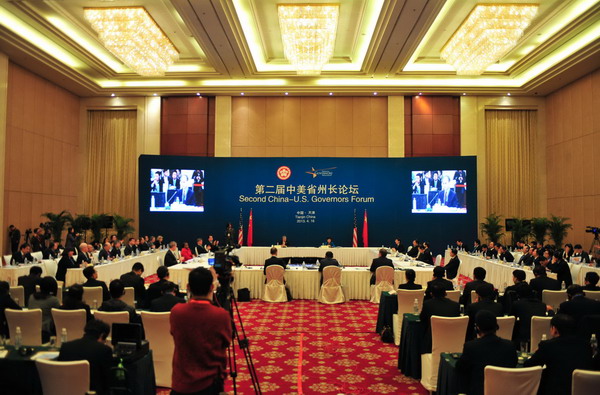 The Second China-US Governors Forum is held on April 16 in Tianjin. [Photo / Xinhua]
BEIJING - Chinese officials have called on the United States to reduce barriers to Chinese investment and turn to talks and negotiations to tackle trade disputes between the two sides.
"Protectionism has been surging recently in the US, resulting in a tightening investment environment," Zhang Qingwei, governor of Hebei province, said at the Second China-US Governors Forum held Tuesday in Tianjin.
The US has launched a series of punitive measures against Chinese investors, including photovoltaic enterprises and tire manufacturers, Zhang said, adding that two Hebei-based pharmaceutical firms were convicted of manipulating prices by a local US court in March and fined 1 billion yuan ($161.7 million).
"Chinese investor confidence can be dampened by America's punitive measures, and it's vital to build up a negotiation mechanism to enhance bilateral trade relations," Zhang said.
Similar concerns were also voiced by Su Shulin, governor of Fujian province.
Chinese investors have failed to enjoy equal treatment with Western companies and are facing restrictions in certain industries, Su said, adding that it is even more difficult for China's State-owned enterprises to obtain approvals from the US government.
More and more Chinese firms are going global, and the US should lift restrictions on Chinese investment, which, in turn, could bring jobs and growth to the target country and create a win-win situation, said Huang Xingguo, mayor of Tianjin Municipality.
Visiting governors from the states of Iowa, Wisconsin and Virginia have welcomed Chinese investors and expressed their hopes that the two nations can increase cooperation in agriculture, trade, culture and education, as well as share experiences in addressing issues like food safety and environmental protection.
"We'll continue to look at how we can bring those barriers down. Some of them need to be addressed at the national level by our federal government, but we'll do what we can to make it easier for direct investment in our state," said Governor of Iowa Terry Brandstad.
"We'll get our national government to make the process of getting a visa easier," he added.
The China-US Governors Forum is a groundbreaking measure to enhance cooperation at the provincial and state levels between the two countries. The first forum was held in Salt Lake City, Utah, in July 2011.