Hainan could be part of intl surfing network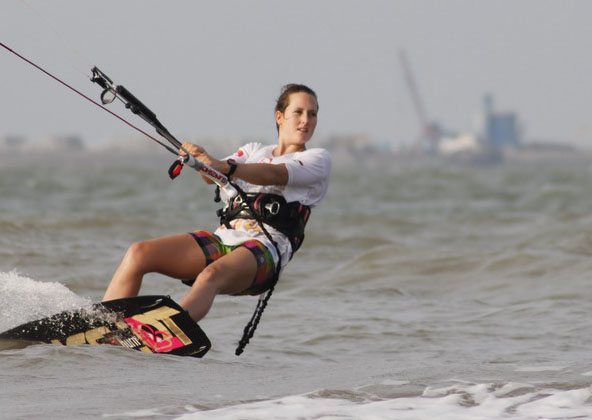 A contestant for a kite surfing tournament surfs at the Holiday Beachside Resort in Haikou, Hainan province, Nov 14, 2012. [Photo by Shi Yan / Asianewsphoto]
CANBERRA - China's Hainan province could share a greater slice of the $131 billion global surfing industry by becoming part of the international surfing network, an Australian researcher said Wednesday at a meeting of World Surf Cities Network in the Australian city of Gold Coast.
Gold Coast Surf City deputy chairman and Southern Cross University researcher Professor Ian Eddie said consideration is being given to endorsing the sun-blessed province as an official 'world surf city'.
"Our objective is to set up a relationship with Hainan province and link Gold Coast and the broader surf industry to the emerging Chinese surfing market," Eddie said.
"It's very early in the process and any twinning will require the approval of the nine cities in the World Surf Cities Network," he said.
Hainan will be formally nominated within days by World Surf Cities Network director John Nielsen.
The Network, established in 2011, is based in Gold Coast, the world's surfing center. At present, there are nine cities around the world which have been part of the network.
Eddie said the next step will be to make formal contact with Hainan province officials and the China Surfing Association.
"From our point of view, we'd like Gold Coast to be the number one destination for Chinese surfers looking for top quality waves, surf school instruction and to purchase high quality Australian surfing equipment."
"Moreover we see this being a mutually-beneficial opportunity for Hainan province and Gold Coast to cooperate and work more profitably in the global surfing industry," he said.
A collaborative study by Australia's Southern Cross and Bond Universities last year concluded the size of the global surf industry could be up to $131 billion annually based on 35 million surfers worldwide and estimates of their expenditure.
Eddie said those numbers are set to grow significantly.
"As surfing is adopted as both a sport and lifestyle in China and a large number of emerging and developing countries in other parts of Asia, the Pacific, Central and South America and around the African coast, things will continue to boom globally."
"Within the next decade there is potential for the world's wave-riding population to grow by an additional 20 million people.
"If this growth rate is sustained, then by the mid-2040s there will be something like 100 million surfers globally," Eddie said.