Hainan ready for Boao Forum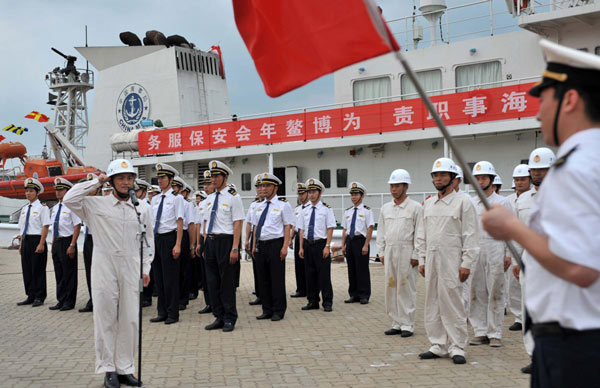 A ceremony is held by the Hainan Maritime Safety Administration in Haikou, capital of south China's Hainan province, April 3, 2013. A fleet of five marine surveillance ships will monitor maritime traffic safety, investigate maritime accidents, detect pollution, and carry out other missions around the clock during the Boao Forum for Asia Annual Conference 2013 in Hainan.[Photo/Xinhua]
South China's Hainan province has completed preparations for the Boao Forum for Asia (BFA), which will be held on the island from April 6 to 8, organizers said Thursday.
A reception center for the annual forum has been set up at the Meilan Airport in the provincial capital Haikou, located about 120 km north of the coastal town Boao, which will host the forum.
About 1,200 armed police have been mobilized to guarantee the security of the event. All public security departments in the province have canceled leaves from March 26 to April 10 to maintain around-the-clock security, according to organizers.
Aviation activities for sports, entertainment or advertisement will be banned from April 5 to 9 in the province.
The theme for this year's forum is, "Asia Seeking Development for All: Restructuring, Responsibility and Cooperation." More than 10 heads of state from Asia and other regions have been invited to the event, and over 1,400 others, including 1,221 businesspeople, are also expected to attend the event.
Chinese President Xi Jinping will deliver a keynote speech at the opening ceremony of the forum.
The BFA was launched in 2001 as a platform for high-level leaders from government, business and academic circles to discuss pressing global and regional issues.