SMEs hungry for long-term loans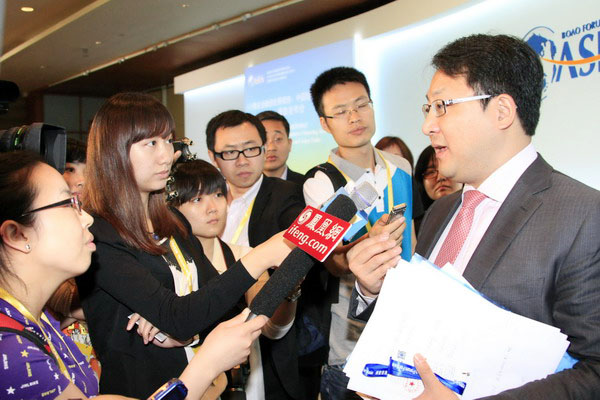 Zhang Xuyang, general manager of the retail department of China Everbright Bank, is interviewed about the "Report on Small and Micro Business Financing Development". [Huang Yiming / China Daily]
China's small and micro enterprises are still struggling with lackluster business, and most badly need long-term rather than short-term loans, said a report based on a survey released on Saturday at the Boao Forum for Asia.
Of the 1,000 small and micro enterprises surveyed across China, 56.7 percent said their order numbers declined or stayed flat last year compared with 2011, and 57.7 percent said profit dropped or kept flat in 2012. In addition, 49.9 percent complained about an unstable workforce.
One-third of SMEs need medium- and long-term loans to upgrade their equipment or invest in new products, the survey found, yet 63.3 percent of loans they got were short-term, less than a year.
"This stands in conflict with the fact that driven by fiercer competition, 39.3 percent of SMEs have considered improving their product quality, 43.9 percent of SMEs have considered extending their product chain and 27.7 percent have considered upgrading their technology," said Ba Shusong, a banking expert with the Development Research Center under the State Council, who led the research.
A revelation of the report is that though 66.7 percent of SMEs regard bank loans as a primary financing measure, 62.1 percent of them do not now have them.
Yao Wang, executive president of the Research Institute of the Boao Forum for Asia, said SMEs have little expectation of getting bank loans.
"The survey showed most SMEs don't have bank loans. They don't expect to get a loan from big banks. This is pathetic," Yao said.
In consequence, SMEs sought financing from family members and friends - 24.3 percent of micro enterprises and 7.5 percent of small enterprises. They are much less aware of the multiple new financing methods: 38.8 percent of SMEs, for example, do not know about intangible assets mortgages.
Though the official bank loan interest rate is lower than that of the small-sum loan companies, 31.8 percent of SMEs considered bank loans as the most expensive means of financing, compared with 27.1 percent for small-sum loan companies.
This is because many banks attach several preconditions to SME loans, requiring for example that they first deposit a certain amount of money in the bank before they can get a loan, thus pushing up the gray cost of loans, according to Ba.
Other bank loan difficulties reported by SMEs compound the problems, such as long waits for the loans to arrive (45.8 percent), or the inability to provide sufficient collateral or security (41.1 percent).
To address these issues, the report called for innovation in bank financing and collateral requirements, and the development of new financing methods. The survey found that 62 percent of SME bosses have never used private banks or VIP wealth management services, which suggests there is huge potential for banks to tap in these areas.
"Traditionally, loan and wealth management service are run separately within banks. If they merged the two, enormous opportunities would be found," Ba said.
He also suggested "industrial chain financing", in which SMEs could get loans from their up- or downstream connections, who have sufficient knowledge of their financial and credit conditions.
Small-sum loan companies and loans offered by business to customer websites were also recommended.
Despite the difficulties, Ba said he saw encouraging signs of banks offering financial services to SMEs
"Three or five years ago, SME financing was just talk among bankers. Now more and more bankers told me privately that driven by narrower interest spread and fiercer competition, SME financing is changing from a talk to concrete action," said Ba.
zhengyangpeng@chinadaily.com.cn
Don't miss
Private firms lead China's investment overseas
Xisha Islands to open to tourism before May
Chinese, Kazakh presidents hold talks over ties
BOAO sub-forum debates China's innovation
BFA holds General Members Meeting