Product woes demand more govt supervision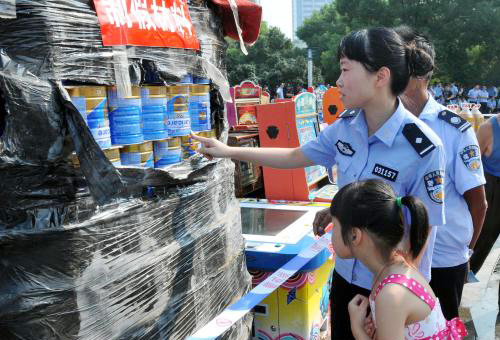 Police in Jingdezhen, Jiangxi province, put substandard milk powder on display in August 2012. Local police there held major crackdowns on gutter oil, substandard milk powder and illegally used food additives. [Photo / bjreview.com.cn] 
Consumers have little in the way of recourse when their rights are violated. What needs to be done?
The direct shift gearbox (DSG) transmission technology and its smooth shifting between gears has long been a bragging point for Volkswagen.
What Volkswagen didn't anticipate in its highly touted technology was a defect, one that could be fatal.
A Shanghai native surnamed Li said he will never forget the day when his Volkswagen Octavia lost control.
"I bought the car in May 2011," Li told a China Central Television investigative program. "One time, I was driving at 80 km per hour when I stepped on the accelerator to surpass the car ahead of me. The car suddenly lost engine power and slowed down. It scared the hell out of me. Luckily, there was no accident."
The CCTV program, which falls on March 15 each year in conjunction with World Consumer Rights Day, exposed malfunctions of the DSG transmission in some Volkswagen models that could cause sudden loss or gain of engine power, posing a great safety hazard.
Li is just one of the many Chinese consumers who have encountered the defect. In June 2010, some car owners set up several live chat rooms online to share their experiences and come together to fight for their rights against the company. Within two years, there were thousands of people in the groups.
At the beginning of 2012, Volkswagen offered a free software upgrade to cars equipped with its DSG system. But car owners soon learned the defect remained even after the upgrade. Last May, the company extended its DSG quality guarantee period in China to 10 years.
Still, consumers are not happy. Defects do not always unearth themselves during inspection, and there's no way to guarantee the defect won't wreck havoc again once the problem has been purportedly fixed.
After the CCTV exposure, Volkswagen said it would recall a total of 384,181 DSG-equipped cars in China.
Another exposed carmaker was JAC Motors, one of China's largest domestic automakers. CCTV reported that many drivers have been complaining about rust problems with the company's Turin car model.
JAC Motors announced it will recall 117,072 units of its Turin model over the concerns. The Anhui-based automaker says it will repair those vehicles with rust problems for free and improve the coating of the metal plates for those that have not rusted.
Other exposed corporate malpractices in the CCTV program included the leaking and selling of personal information by companies, Apple Inc's post-sales policies in China, an advertisement plug-in secretly installed by Internet access providers and false drug advertisements.
Chinese have become more aware of protecting their rights as consumers, as indicated by the number of growing consumer complaints each year.
We recommend
Volkswagen to recall 380,000 cars in China
China demands Volkswagen to recall defective DSG cars
Apple unmoved by repairs complaints
Apple in guarantee scandal in China
China gets stronger food, drug regulator