High hopes for new food safety monitoring
A new nationwide food safety monitoring system to be implemented this year is expected to improve the quality of major food products and restore customer confidence in domestic brands, a leading researcher said.
All of China's provinces and at least half of its cities and counties will have monitoring sites by 2013, said Yan Weixing, a researcher at the China National Center for Food Risk Assessment under the Ministry of Health.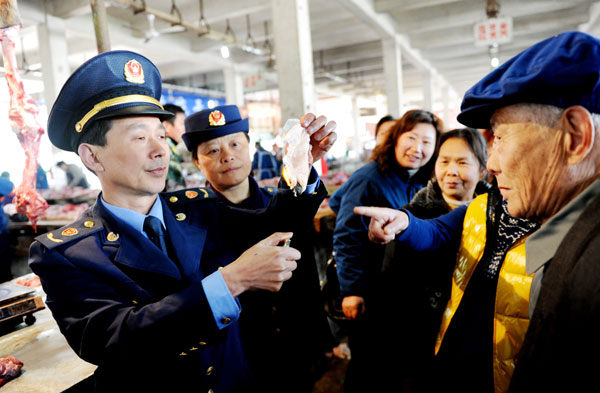 Officials from the industry and commerce administration in Dexing, Jiangxi province, introduce methods to tell if water has been injected into meat, during an activity on Wednesday to mark World Consumer Rights Day, which falls on Friday. ZHUO ZHONGWEI / FOR CHINA DAILY
The system, launched by the ministry in January, will monitor about 20 kinds of food products, including baby formula, meat products, vegetables, fruits and drinking water.
The ministry stated that the products must be subject to thorough checks for hazardous substances, contaminants and radioactive material.
"The monitoring results will go directly to the supervision bodies, who will then conduct targeted supervision based on any problems we discover," Yan said.
For the domestic dairy industry, regular and thorough supervision can reduce the possibility of problematic infant formula reaching supermarket shelves, and the frequent release of information will help parents have more confidence in domestic brands, he said, adding that more areas will be tested under the new monitoring system.
The researcher, also a member of the National Committee of the Chinese People's Political Consultative Conference, made the comments in reference to Hong Kong limiting the amount of infant formula allowed to leave the special administrative region.
Many provinces and cities welcomed the new policies and pledged to increase food safety monitoring sites this year to ease growing public concerns. Tianjin will double the number of monitoring sites to 1,200. Monitors will cover supermarkets, wet markets selling aquatic and agricultural products, major hospitals and restaurants.
The provincial food safety watchdog of Hebei province said it will extend monitoring sites to cover half its cities and towns, and will test 20,000 food samples in 2013.
Despite the ministry and experts expressing their strong determination to improve infant formula safety, residents greeted the new policies with muted enthusiasm.
Wang Hao, who has a 2-year-old son, said he did not want to use domestic brands despite hearing many officials say they are safe.
"They cannot test the majority of baby formulas despite having more monitoring sites," said the 27-year-old father from Shijiazhuang, Hebei province, where the dairy company at the center of the melamine-contaminated milk powder scandal is located.