The big boys' club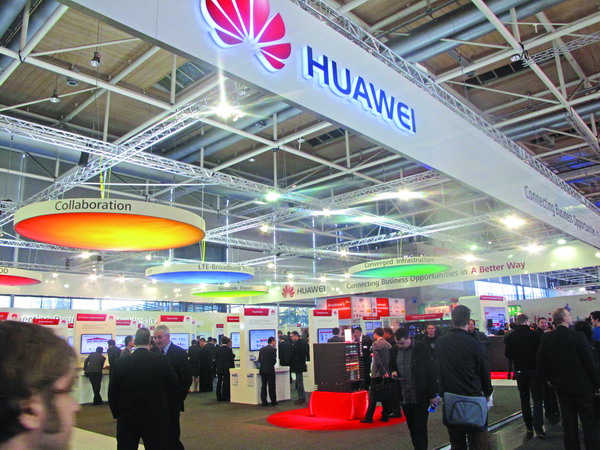 Some Chinese companies, such as Huawei Technologies Co Ltd, have won international recognition for their know-how. [Photo / China Daily]
Chinese companies challenge their Western counterparts by catching up in the field of technology
In his 20-square-meter office in the Oxford University Hospitals NHS Trust in London, Wu Feng, a professor of surgery, receives many patients with different types of tumors every day.
"I am proud of my job, which also offers me the opportunity to show people how excellent made-in-China medical devices are", Wu says, referring to the huge, tumor-treating medical devices. The devices are produced by Chongqing-based Haifu Medical Technology Co Ltd.
"The hospitals introduced the HIFU machine in early 2002, and at that time, the British doctors and professors were surprised that Chinese companies were capable of making such high-end machines, some of which were considered years ahead of their European counterparts," Wu says.
Currently, nine European countries, including Italy, are using 23 HIFU machines.
For years, China has had the image of being a low-cost workshop where quality is inferior and ideas are always copied - or stolen - from the West.
While the Chinese government assists domestic companies on innovation, companies like HIFU are gradually shifting the global preconception.
As global demand shrinks due to the financial crisis, growth of the world's second-largest economy's exports has been declining as well. In 2012, the nation's exports rose by 7.9 percent from a year earlier to $2.05 trillion, the lowest growth in a decade, compared with a 20.3 percent jump in 2011.
But that does nothing to detract from the country's progress on the world stage. An encouraging sign is that some Chinese companies, led by Huawei Technologies Co Ltd and Lenovo Group Ltd, have won international recognition for their know-how.
In 2009, China surpassed Germany as the largest exporter worldwide, and has maintained its position since then.
In 2011, China overtook the United States as the world's biggest goods producer by output, which helped the nation reclaim the global supremacy it lost in the 19th century.
Although China's exports to the EU dropped by 6.2 percent last year, the nation's share in the EU's market for foreign trade rose, experts say.
During the past two to three years, a growing number of Chinese companies have stepped up to acquire Western rivals, those in Europe in particular, to obtain technology and networks, illustrated by Sany Group Co Ltd's purchase of Putzmeister in Germany.
In 2011, China's outbound direct investment in the non-financial sector in the EU increased by 94 percent year-on-year compared with just 1.8 percent growth of total ODI that year.
"China is really advancing rapidly toward high-end goods. It's an amazing improvement. We have confidence in the sales (of high-end products) in the European market," says Li Fei, economic and commercial counselor of the Chinese Embassy in the Netherlands.
You may be interested
Top European politician calls for closer ties
Chinese firms can realize win-win with Europe
Don't miss