In Europe for Europe
Chinese companies raise their game
When the global financial crisis broke out in 2008, little did economic experts think it would be the precursor for a healthy economic relationship between China and Europe. But in the subsequent years the alliance, aided by a series of mergers and acquisitions in Europe, has managed to give Chinese outbound investment a new direction.
More importantly, the Chinese investment footprint covers the entire continent, ranging from the cantons of Switzerland, to the industrial heartlands of Germany, the vineyards of France, a port in Greece, and textile companies in Italy. It also includes utility investments in the UK and services sector investments in many European nations.
Zhejiang Xuebao Fashion Co, a leading fur coat maker, is one of the Chinese companies eyeing Europe for further growth. The company plans to invest 50 million yuan ($8 million) to acquire a local fur coat factory in Turin and establish a representative office in Italy by the end of May.
"Italy is the fur capital of the world. There is a lot of know-how we can gain from the Italian factory. It will also help in making our products appeal more to European customers," says Zhu Weixiang, general manager of the company. "The debt crisis in Italy has given us an ideal investment opportunity."
In July last year, China's leading down coat producer, Bosideng International Holdings Ltd, opened its first overseas store in London's West End. The $55 million store is the first main link in Bosideng's overseas expansion.
The company, named Chinese Investor of the Year in 2012 by the British Business Award council, expects overseas business to account for more than 5 percent of its total revenue in the next five years.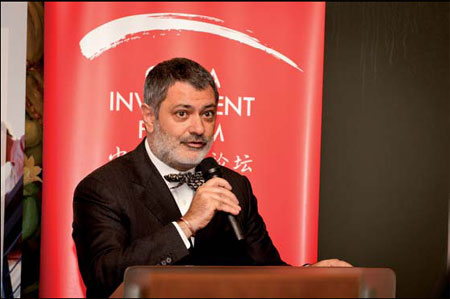 Davide Cucino says revenue is not the only factor propelling Chinese firms to Europe. [Photo / China Daily]
Chinese investment in Europe has not only grown rapidly, but also outpaced its investments to the US. And not surprisingly, most of these investments have managed to create jobs amid a dismal economic climate in Europe.
A recent study conducted by the European Chamber of Commerce in China, KPMG and Roland Berger Strategy Consultants indicates that Chinese companies operating in the EU will not only increase their investments in Europe, but also look to acquire more technology, brands and expertise through M&As to further improve their competitiveness.
"We were surprised to find that most of the respondents wanted to continue to invest in Europe. This gives us the feeling that Chinese companies that have an ongoing investment in Europe are happy with these projects and want to continue to stay invested in Europe," says Davide Cucino, president of the European Chamber of Commerce in China.
Find more in