Rich talent base and a technical knowledge pool give France an edge in attracting investment from China
Though it still lags Germany and the UK in the investment stakes, France is fast emerging as the destination of choice for Chinese investors in a host of sectors such as telecommunications, energy, agriculture, consumer goods and biotechnology. In absolute terms, China's investment in France remains modest and was ranked 10th among all nations last year, according to Invest in France Agency, a French government body that promotes and facilitates inbound investment.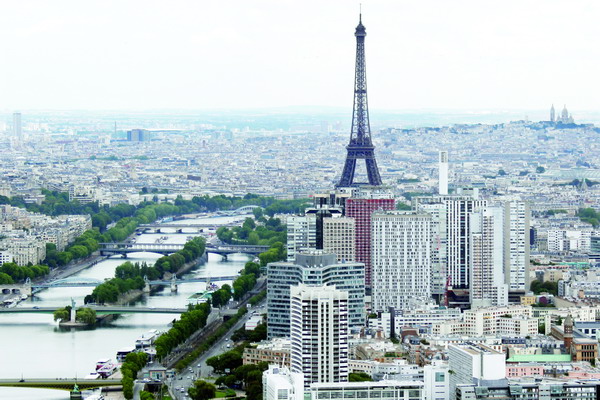 The Eiffel Tower and the Seine River are seen in an aerial view of Paris. France has attracted more investment from China for its innovation and creativity. [Photo/Agencies]
The growth of Chinese investment has been phenomenal over the past decade with direct investment from China going up more than tenfold. The total value of China's investment in France reached $1.8 billion by the end of 2011 and created more than 6,000 jobs, according to the AFII.
Chinese investment in France is likely to gather further steam next year, as the ongoing economic woes in Europe have prompted France to seek more foreign investment to revitalize economic growth and arrest rising unemployment.
Economic growth has more or less remained flat in France, while the unemployment rate has peaked at more than 10 percent.
With its abundant technical know-how and reliable supply of highly skilled professional workers, France offers excellent prospects for Chinese investors in a host of industries such as telecoms and energy. For the Chinese companies, investing in France is an opportunity to gain access to other European markets and to cutting-edge technologies.
It is precisely these factors that have spurred the outbound moves of Chinese electronic and information technology companies like Huawei, ZTE and Lenovo in France.
"The key strength of France lies in its innovation and creativity. That's why we have set up our research and development center here," says Chen Liang, general manager of ZTE France.
Chinese telecom equipment manufacturer ZTE established its French office in 2004 and made it the hub of its European operations in 2008. Chen says that investing in France has helped ZTE strengthen its market share in the European region.
Although the company is seeing increasing pressure on its sales due to the eurozone crisis, ZTE expects to stay invested as it considers France an important market, he says.
ZTE has also shifted from an export-oriented contract manufacturing approach to an investment pattern aimed at overall brand building. The company currently enjoys a 10 percent market share in the French mobile phone market, Chen says.
In addition to gaining technological know-how, investing in France has also helped some Chinese companies improve their global competitiveness and reach a leadership position in their industry.
A successful case in this regard is the investment made by China National BlueStar Co Ltd, a state-owned chemical company.
In 2006, BlueStar acquired French company Adisseo, the world's third-largest methionine producer, for 400 million euros. It also bought the organic silicone business of French company Rhodia in another deal worth 400 million euros during the same year.
The two deals remain the largest investment made by any Chinese company in France, following which BlueStar became the world's second-largest producer of animal feed additive and the third-largest producer of organic silicone.