Dyson hopes to clean up in China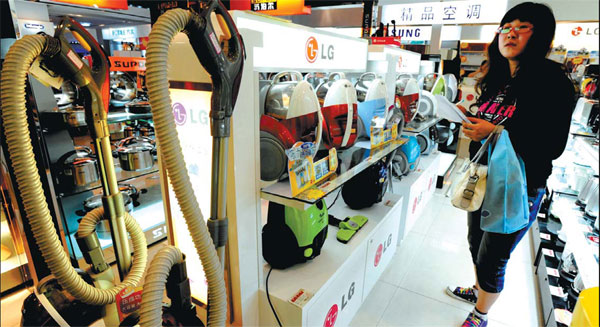 An electrical appliance store in Shenyang, Liaoning province. Demand for high-end household electrical appliances has boomed in China. [Photo/China Daily]
Innovator seeks to capitalize on growing demand for high-tech electrical appliances
It has been more than 40 years since James Dyson, a British innovative inventor and engineer, launched his first home appliance product, a cyclonic vacuum cleaner that would not lose suction as it picked up dirt.
Since then, James Dyson, the founder and chief engineer of Dyson Ltd, has progressed from being a young man full of new ideas at the Royal College of Art in London to a knighted entrepreneur leading a company with some 4,000 employers including 1,536 scientists and engineers.
Dyson Ltd sells some 85 percent of its products outside the United Kingdom - in more than 50 countries and regions. In 2011 the company's annual revenue for the first time exceeded 10 billion yuan ($1.6 billion). In late 2012, Dyson Ltd's products, which can be found at Buckingham Palace, the Tower of London, the Vatican, Harvard University and the Time Warner Center in New York, were launched in China.
"I look forward to bringing more machines to China in 2013," said James Dyson.
Dyson Ltd's latest technologies include hot and cool fans, new cylinder vacuum cleaners and the digital slim cordless vacuum cleaner. In China, one of Dyson Ltd's most widely known product series is the Air Amplifier - the original bladeless fan.
Mutual embrace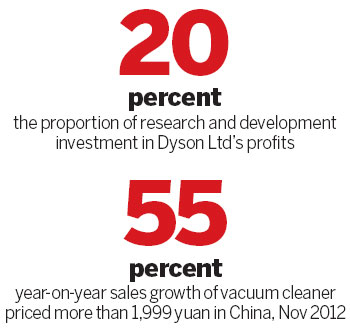 Over the past two years, demand for high-end household electrical appliances has boomed in China despite slowing economic growth, according to a report by China Household Electrical Appliances Association. It also said that shrinking consumption of electrical appliances in general has polarized the high-end and low-end markets.
Sales of vacuum cleaners with prices higher than 1,999 yuan saw a 55 percent year-on-year increase in China last November, while those with prices lower than 299 yuan decreased by 39 percent, a GFK China report said.
People's desire for well-designed, fun-to-operate appliances with fashionable looks is growing fast. Over the past 12 months, middle- and high-end household appliances developed at a high-speed yet there is still great potential for growth. As international high-end brands enter China's market with outstanding sales performance, high-end household electrical appliances will also see a booming market in China over the next few years, the GFK China report said.
The Chinese have embraced Dyson Ltd's machines, the company said. They have high expectations of the technology Dyson Ltd uses, said James Dyson. So far, the company has stores in Beijing and Shanghai, where the residents with most purchasing power in the country live.
"There seems to be a real appetite for technology. We brought our newest machines to China for their launch: digital handheld cordless vacuum cleaners, bladeless fans and our most advanced cyclone technology that doesn't lose suction," said James Dyson.
To him, the difference between the Chinese market and that of the rest of the world is scale and variety, which makes it logistically challenging. But in terms of high-tech appliances, tastes are aligning globally.
"In the past we have designed smaller machines specifically for the Asian market. Now we are finding that the world over people want compact technology without compromising performance. This shift has been central to the growing popularity of our digital cordless vacuum cleaners and we look forward to seeing that growth continue," said James Dyson.