Central bank focuses on inflation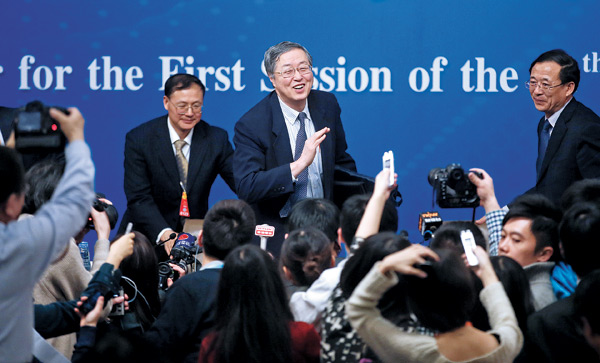 Zhou Xiaochuan, the central bank governor, still faces questions even after a news conference at the National People's Congress on Wednesday in Beijing. [Feng Yongbin / China Daily]
Monetary policy will be key weapon in targeting price rises, governor says
The head of the People's Bank of China said on Wednesday his priority is to guard against inflation.
"We hope to stabilize prices and inflation by means of monetary policy and other measures," said Zhou Xiaochuan, China's longest-serving central bank governor.
Zhou also reiterated his commitment to further reform of the capital markets in a news conference at the National People's Congress.
He explained that the bank's 2013 growth target in the money supply, set at 13 percent from last year, was an act of prudence, or a "neutral" stance, rather than the relatively loose monetary policy following the 2008-09 global financial crisis.
The country will maintain stable credit growth this year in accordance with GDP targets and the consumer price index, Zhou said.
Premier Wen Jiabao proposed last week in his Government Work Report to the NPC that GDP growth for 2013 be set at 7.5 percent, while the target for inflation, as measured by the CPI, be set at 3.5 percent.
The bank's 13 percent annual target for M2, a broad measure of money supply, is the lowest since 2000. In 2012, China's M2 increased by 13.8 percent year-on-year.
The money supply, compared with GDP, will not create an inflation threat, Zhou said. Japan, which is running a higher M2-GDP ratio, is still battling deflation.
"If we can control the growth of M2 at a reasonable level, it won't lead to sudden price increases," he argued.
He promised that the bank's policies, including those toward market-oriented interest rates and currency exchange rates, will continue regardless of whether he will be asked to continue as central bank governor. The new cabinet will be decided by the NPC this week.
Zhou, 65, was elected on Monday as one of the 23 vice-chairpersons of the Chinese People's Political Consultative Conference National Committee, the country's top political advisory body.
Inflation climbed to a 10-month-high of 3.2 percent in February from January's 2 percent.
Qian Yingyi, a professor at Tsinghua University who advises the central bank, said earlier the possibility of further interest rate hikes cannot be ruled out this year, if the government is to meet its inflation and money supply targets.
There will not be any major problem in achieving growth targets, he said.
The central bank has left interest rates and reserve requirements for banks unchanged since July.
Chris Leung, a senior China economist at DBS Bank, said China should raise interest rates in the face of inflation risks.
At his press conference on Wednesday, Zhou also warned that China should pay attention to financing vehicles lending to local governments, as 20 percent of the loans could be categorized as risky.
Dong Dasheng, deputy chief of the National Audit Office, said last week that local government debt basically stands at the same level of 10.7 percent as it did at the end of 2010, and total government debt ranges from 15 to 18 trillion yuan ($2.4 to $2.9 trillion), without counting lending guaranteed by different levels of governments.
Contact the writer at wangxiaotian@chinadaily.com.cn