Minister optimistic on 2013 trade prospects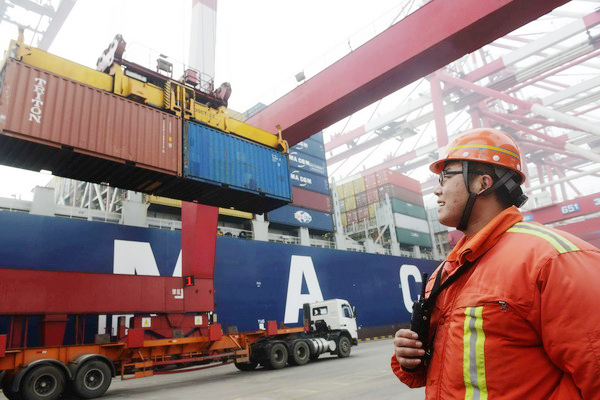 A worker looks on as containers are offloaded in Qingdao Port, Shandong province. China's imports declined 15.2 percent year-on-year in February because of weaker internal demand. [Photo / China Daily]
Feb exports gaining momentum due to global economic recovery
China's exports kept gaining momentum in February amid increasing global demand, while the trade outlook for the whole year is "cautiously optimistic", Commerce Minister Chen Deming said on Friday.
"Generally speaking, foreign trade this year will be slightly better than last year. I am cautiously optimistic about the whole-year prospect," Chen told a briefing during the annual meeting of the country's top legislature.
The Government Work Report delivered by Premier Wen Jiabao on March 5 did not include a trade target for 2013 owing to "global uncertainties", while the National Development and Reform Commission, China's top economic planning body, outlined an 8 percent growth in a report.
China's foreign trade rose 1 percent from a year earlier in February, with exports surging 21.8 percent, compared with a 25 percent growth in January and a 14 percent expansion in December.
Meanwhile, imports declined 15.2 percent year-on-year, the slowest pace for 13 months, the General Administration of Customs said in a statement.
The week-long Lunar New Year holiday, which fell in January in 2012 and February this year, distorted the economic indicator.
Total trade in January and February grew 14.2 percent year-on-year, compared with a 7.3-percent growth in 2012, according to the customs administration.
"In addition to the holiday distortion, improving global demand driven by the recovery in the United States supported the steady growth of China's exports in February," said Chen Hufei, an economist at the Bank of Communications Co Ltd.
Trade with the United States, China's biggest export destination, jumped 14.8 percent year-on-year in the first two months, while trade with the European Union, the country's largest trading partner, rose 3.2 percent.
Overseas shipments to the emerging markets also accelerated, with exports to South Africa surging 61.4 percent year-on-year in the first two months, and that to the Association of Southeast Asian Nations expanding 22 percent, according to the customs administration.
"Compared with the pickup in exports, the slow pace in import growth in the first two months suggests that China's domestic demand is weaker than external demand," said Yang Weixiao and Sheng Xu, researchers from Lianxun Securities Co Ltd.
China's imports of iron ore declined 1.5 percent from a year earlier in the first two months, while imports of crude oil contracted 2.4 percent, according to the customs.
Chen Hufei said that in addition to the drop of international commodity prices, China's import slump was also due to the new round of yuan appreciation amid the devaluation of currencies, including the Japanese yen, the US dollar and the British pound, caused by quantitative easing measures.
"Significant depreciation of major currencies will have a big impact on emerging economies as well as Chinese exports and imports," Chen Deming said.
"I'm concerned about inflation for this year's economic growth, and I'm worried about the competitive devaluations, which will lead to an oversupply of money and have a negative spillover on global economic growth."
He said that China's retail sales this year will "maintain a growth of 14 percent" after growing 14.3 percent year-on-year to 21 trillion yuan ($3.4 trillion) in 2012.
The surging online sales, which accounted for 4.32 percent of retail sales, was expected to reach 1.1 or 1.2 trillion yuan in 2012, compared with 780 billion yuan in 2011, the minister said.
lijiabao@chinadaily.com.cn