China trade underlines economic rebound intact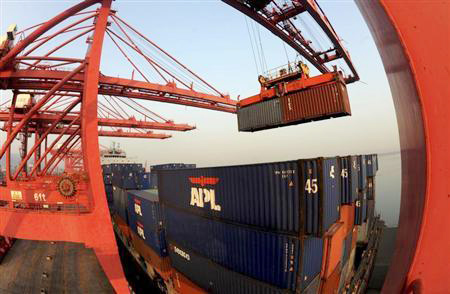 A crane loads containers at a port in Lianyungang, Jiangsu province Jan 10, 2013. [Photo / Agencies]
Chinese trade figures on Friday are set to lead a flurry of indicators underlining that the world's second-largest economy gathered steam in February, adding some momentum to a recovery from its slowest full-year of growth since 1999.
China's exports and imports likely maintained double-digit growth in the first two months of the year, a combination that markets will focus on because of distortions caused by the Lunar New Year holidays.
"The global economy is getting better, not worse, so we can reliably, comfortably, even conservatively say that global spending is going to pick up as the year goes on," said Tim Condon, head of Asian economic research at ING in Singapore.
"A second-half stronger than the first half is the baseline scenario," Condon told Reuters, reflecting his view that China's recovery is intact regardless of what seasonally distorted data for February might otherwise signal in the short term.
Many Chinese firms shut for the long Lunar New Year holidays, which fell in January in 2012 and in February this year. Reading too much into one month's data is a particular risk given the undeniable impact of the nationwide holidays.
A Reuters poll of 22 economists forecast that February exports grew 10.1 percent from a year earlier, while imports likely fell 8.8 percent. The trade balance is forecast to show a deficit of $7.8 billion.
While in stark contrast to January's 25.0 percent export growth and 28.8 percent import growth, when averaged over the first two months of the year, exports may have grown 17.6 percent and imports 10.0 percent.
"Our data in the first two months shows the foreign trade situation is improving," Li Linghong, chairman of Ningbo Port Group, operator of China's third-largest port, told Reuters.
Ningbo port's container volumes rose 13.6 percent in January and February from a year earlier and cargo volumes increased 12.4 percent, Li said.
"Usually the first two months are a peak season for companies to deliver orders, but it still shows the demand from the international market," he said.