Camus says 'cognac not tainted' by plasticizer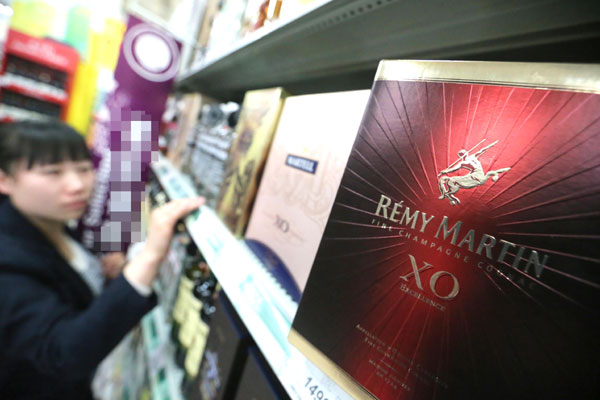 Remy Martin and other imported liquor on display at a supermarket in Beijing. French cognac producer Camus denied reports that its products have been contaminated by plasticizers. [Photo/China Daily]
French cognac producer Camus on Monday denied media reports that its China-bound products had been contaminated by plasticizer, and said cognac was stopped at the Chinese border only because it lacked the required customs documents.
The French newspaper Charente Libre reported last week that Chinese customs in Shenzhen, Guangdong province, held up a batch of French cognac suspected of being contaminated with plasticizer, news that has allegedly panicked French producers.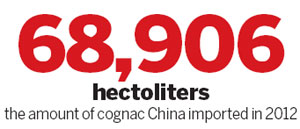 "The report is untrue," said Sun Lei, a spokeswoman for Camus, a major cognac producer in France. "Our products were held because of the lack of customs documents and not because they contained excess plasticizer."
"We have contacted the French newspaper, which has agreed to correct the report," Sun said.
Camus is one of the major French cognac producers, with a third of its exports going to the Chinese market, Sun said.
Meanwhile, the head of the National Inter-professional Bureau of Cognac, the French entity representing all producers and trade houses of cognac, confirmed that China has implemented a new procedure to evaluate the possible presence of phthalates, a kind of plasticizer, in agro-food products since the beginning of this year.
Jean-Marc Morel, BNIC president, said the new procedure has generated delays in the customs clearance of cognac.
But efforts are being made to solve the problem.
"Our sector has conducted numerous tests ... to provide the information required by Chinese authorities allowing the clearance of cognac containers and their entrance into the Chinese market," he said in a statement sent to China Daily.
"Our member companies share with Chinese authorities the same objective to provide Chinese consumers with the highest quality standard products," he said, adding containers contianing cognac are being cleared through customs.
The French newspaper said earlier that China has lowered the rate of plasticizer allowed in products, requiring it to be less than 0.3 mg per kg, in the aftermath of a domestic liquor scandal related to excess plasticizer. But Chinese authorities have not confirmed the report.
The report said that the concentration of plasticizer is likely to be higher in older alcoholic products because of aging and the older pipes used to make the products at the time. The incident has led many cognac professionals to ask French laboratories to ensure the quality of the product.
Industry insiders in France said the incident could cause "real business problems" for French producers, as China has become the main driver behind the surge in French cognac sales in recent years.
Media reports said that the French brands involved in the incident include Remy Martin, Camus, and Frapin.
China is now the fastest-growing cognac market, with its import value up 48 percent over the past two years.
China imported 68,906 hectoliters of cognac in 2012, making it the third-largest importer after the United States (139.335 hectoliters) and Singapore (82.057 hectoliters).
Industry analysts said a large portion of cognac consumed in China arrived in the country via Singapore, so the Chinese market is not far behind that of the US.
British liquor producers are also on alert over the media reports. An official at UK-based liquor maker Diageo, who asked not to be named, said on Monday that as far as he knew, no Diageo products have been stopped in Shenzhen customs.
The official said that some media reported that imported liquor was held up in Shenzhen.
"However, the Shenzhen customs or any other government department did not give any statement or official announcement yet."
Diageo owns global brands such as Johnnie Walker Scotch whisky, Smirnoff vodka, and the Irish dark beer Guinness. Its sales of high-end imported liquor grew around 50 percent annually during recent years.
Jim Spear, an American living in Beijing and a self-professed wine lover, said he finds it hard to believe that French cognac was found to have quality problems.
"I thought they always go through a lot of tests. I just bought a bottle of Remy Martin two weeks ago. I may not continue to buy it in the future if the report is true," Spear said.
Yuan Fei, a university teacher in Beijing, echoed Spear's concerns.
"I seldom buy French cognac as it is usually very expensive. I think tests should be conducted to find out the source of the plasticizer to find whether it was added on purpose," Yuan said.
Contact the writers at lixiang@chinadaily.com.cn and wangxiaodong@chinadaily.com.cn
Liu Jie in Beijing contributed to this story.