Shanghai to pilot PM2.5 forecast mechanism
Shanghai is likely to become the first city nationwide to pilot PM2.5 forecasts in 2013, as national legislators submitted proposals to address thorny environmental issues.
"We will try to report PM2.5 data one day in advance by the end of this year. The date will eventually be lengthened to two days," said Zhang Quan, an NPC deputy and director of the Shanghai Environmental Protection Bureau.
He suggested that "ecological civilization" be written into the Constitution so environmental issues will be legally defined as a national priority.
PM2.5, or hazardous particulate matter of 2.5 micrometers in diameter or less that can penetrate the lungs, are closely linked to a number of significant health effects.
Environmental agencies currently report the air pollution figure in the latter half of the day. But delayed reports fail to send an early warning to alert sensitive populations, including people with heart or lung disease, children and older adults, said Zhang.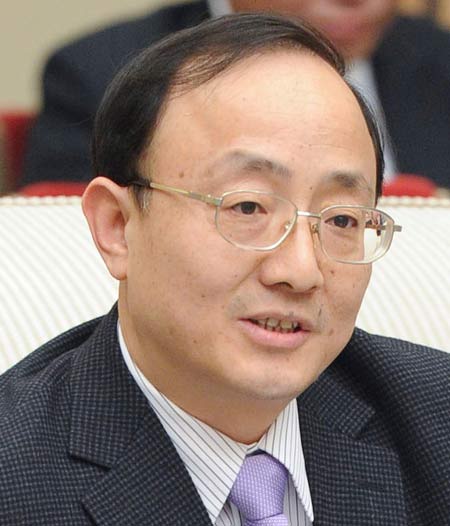 Zhang Quan, an NPC deputy and director of the Shanghai Environmental Protection Bureau
As a result, Shanghai is committed to revamping the monitoring system so that pollutants can be announced before people leave their houses, he said.
Zhang revealed that part of the efforts include introducing measurement equipment for PM1.0, which is an even stricter gauge to track air quality. But such facilities would gather information only for scientific research at this stage, rather than for public release.
On March 1, the city's air quality index reporting system was upgraded to provide real-time information to the public.
Under the new system, should a sudden air quality change occur, an immediate and specific description will be provided to the public via the website of the Shanghai Environmental Monitoring Center, the micro blog of the Shanghai Environmental Protection Bureau as well as applications installed on mobile devices.
The new round of the environment protection plan in Shanghai emphasizes the promotion of a circular economy and a low-carbon economy, with automobile emission control being the first priority, he added.
Apart from such endeavors, Zhang also called for the amendment to the Law on the Prevention and Control of Atmospheric Pollution, which lacks guidance on regional efforts to combat air pollution.
He proposed setting up a regional coordination mechanism to tackle the issue under the leadership of the State Council. A management committee would be co-established by the National Development and Reform Commission, the Ministry of Environmental Protection, the Ministry of Industry and Information Technology, as well as provincial and municipal governments.
Zhang suggests the committee map out the macro policies while cross-regional organs draft specific plans to address emergency air pollution issues.
"For instance, even if each single plant has met the anti-pollution standard, overall pollution may still be shocking if 100 similar plants are set up in the same region at the same time," he said.
Zhu Zhiwen, Party chief of Fudan University and a lawmaker from Shanghai, also believed the amendment will be a reasonable and necessary step to consolidate environmental protection measures on a national scale.
"The law was last updated in 2000. Major pollution events in recent years have severely compounded the situation, which propelled us to seek stricter standards to monitor the pollutants," he said.
A region can never enjoy superior air quality if there is lack of coordination nationwide, said Feng Jun, another deputy and general manager of Shanghai Municipal Electric Power Co.