Gender bias seen in job fair ads
Old stereotypes remain but new regulations help tackle problem
Employers continued to use discriminatory job advertisements at a major Beijing recruitment fair on Sunday, flying in the face of labor authorities' attempts to eliminate the hiring bias.
At the fair held at China International Exhibition Center, Jingye, a bearings manufacturer in Beijing, offered two positions for male candidates only.
"A secretary of the general manager would be asked to frequently accompany the manager on business trips. Our manager is male so it's inconvenient for a female employee to do the job," said Wang, a human resources employee at the company who did not give her full name.
The company was also seeking a man to fill the position of chief accountant because the job involves dealing with stress and requires frequent overtime work, she said, adding: "Men are more capable of handling pressure."
Wang conceded that the organizer of the job fair had asked employers not to use discriminatory words in job advertisements.
"We posted the job information and they (the organizer) have not noticed the words," she said.
Zhang Qiujian, director of a human resources services agency affiliated with the Beijing Municipal Bureau of Human Resources and Social Security, which organized the fair, said they had strictly gone through the employment advertisements and deleted words that involved gender restriction.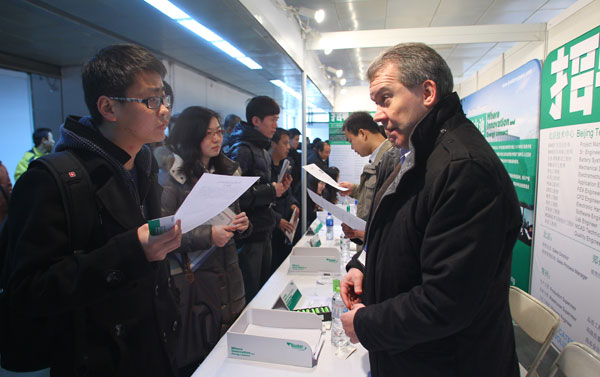 A job seeker speaks with a recruiter who represents a foreign-funded enterprise at a job fair organized by the Beijing Municipal Bureau of Human Resources and Social Security at the China International Exhibition Center in Beijing on Sunday. Zou Hong / China Daily