Job-hopping sneaks in early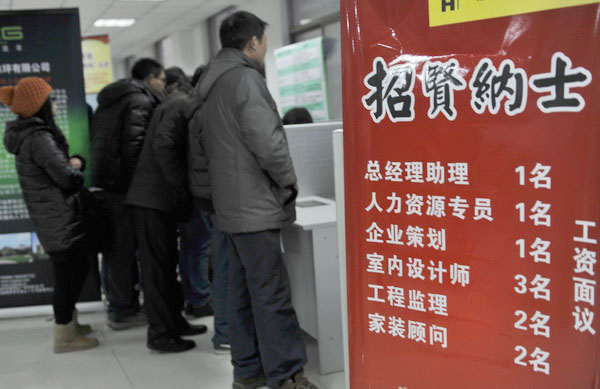 Job seekers at a talent fair in Huai'an in East China's Jiangsu province. Some employees have started to consider moving on even before the Spring Festival this year, much earlier than the usual peak season in March and April. [Photo / China Daily] 
Year of the Snake not seen as very auspicious for the Chinese economy
The peak season for job-hopping in 2013 came earlier than usual because of economic uncertainty.
Some employees started to consider moving on even before the Spring Festival this year, much earlier than the usual peak season in March and April.
The months after the Lunar New Year are traditionally the best to find a new job because companies have completed their recruitment plans for the year and consequently just released job vacancies.
The year-end bonus is another important motivation for job-hoppers who leave their positions after the festival.
But the situation is different this year.
Pessimism about the industries affected by the economic downturn encouraged employees to search for new jobs as soon as possible, said experts.
It forced businesses to start looking for new staff before the festival to cope with the exodus of existing workers.
Many enterprises adjusted their strategies in 2012 so it is understandable that employees are not sure about their company's future during this period, said Liu Xingyang, a senior human resource expert with ChinaHR.com, the Chinese subsidiary of Monster Worldwide.
Employees complained about chaotic management and started to look for new jobs earlier in 2013, he said.
About 27 percent of the job-hoppers said they were quitting because of their company's poor prospects, according to a report on job-hopping from ChinaHR.com.
Zhang Gang, a manager at a real estate agency in Beijing, said he started looking for a new job early on and hoped to settle down in one before the festival.
"I want to get an ideal position before the festival, also before plenty of other people start chasing just one job," Zhang said in January.
Zhang said lack of job security in real estate drove him back to the consumer industry, in which he used to work.
The 28-year old said his salary was 50,000 yuan ($8,035) a month during the good times but now its is less than 50 percent of that.
"This year's bonus will not be particularly attractive either," he said. "It is not wise to wait for it."
Chinese grads eye smaller cities: report
Labor shortage expected to hit S China
Hudson Report: Job outlook mixed
Highlighting the skills you need in a changing China
Search for skilled workers moves inland