Xi pledges continued support for Africa
China's top political leader Xi Jinping pledged continuing support for Africa's development on Sunday while meeting with Nkosazana Dlamini-Zuma, chairwoman of the African Union Commission.
"Africa is a continent of hope," said Xi, and Africa's development conforms to the historical trend of the times and helps to safeguard world peace and stability.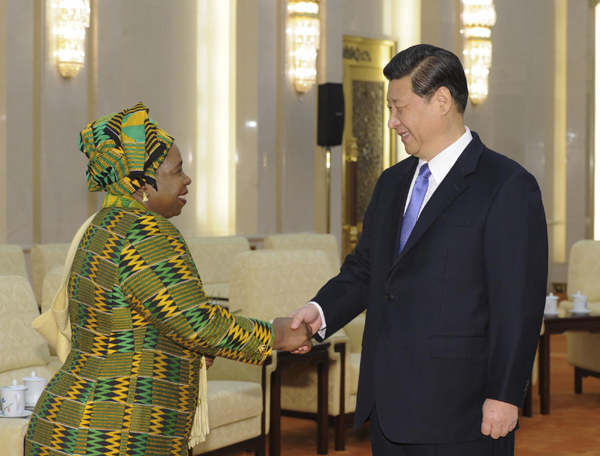 Chinese leader Xi Jinping met with Nkosazana Dlamini-Zuma, chairperson of the African Union (AU) Commission, in Beijing, Feb 17, 2013. [Photo/Xinhua]
Xi said China supports the self-determined development of and the solidarity among African countries as well as their pursuit of progressive paths suitable for their own national conditions.
"Africa's development creates opportunities for China, as China's development creates opportunities for Africa," Xi said.
China has been Africa's largest trading partner since 2009, surpassing the United States and Europe.
China-Africa trade reached $160 billion in 2011 and is estimated to surpass $200 billion in 2012, according to the Ministry of Commerce.
A report released recently by the Standard Bank of South Africa shows that about 18 percent of Africa's imports were sourced from China in 2012, while China's imports from Africa increased by 26 percent last year.
China has exempted tariffs on 60 percent of goods imported from 30 African countries since January 2012 in order to boost trade with the continent. It also encourages enterprises to invest in African countries by raising funds and giving preferential loans.
More than 2,000 Chinese enterprises are engaging in African investment projects in agriculture, telecommunications, energy, manufacturing and catering. Africa is now China's second-largest overseas market in project contracts.
"China and Africa have maintained the good momentum in growth against the backdrop of the slow recovery of world economy and difficulties caused by the euro debt crisis in 2012," said An Chunying, an expert on African studies at the Chinese Academy of Social Sciences.
An noted in a recently published article that Africa and China should watch out for problems in cooperation that could be caused by political instability in some African countries and threats to the security of Chinese employees in African countries.
It's important for China and Africa to further expand their economic relationship in new historical circumstances and achieve healthy and sustainable development, An said.
"No matter how situations change, China will attach importance to ties with Africa, remain a reliable friend and faithful partner of African nations and always regard the AU as a reliable strategic partner," said Xi.
He added that the common development of China and Africa is significant for the growth of developing economies as a whole and helps to make international relations more democratic.
Dlamini-Zuma thanked China for supporting Africa's drive for peace and development, saying China is an important strategic partner in Africa's push for modernization and sustainable development.
African countries hope to learn from China and expand their cooperation with the country in development planning, agriculture, manufacturing, science and technology, infrastructure and human resources as well as major regional and international issues, she said.
The AU is ready to boost cooperation with China to further advance Africa-China relations, said Dlamini-Zuma, who arrived in Beijing on Thursday for the fifth China-AU strategic dialogue.
Contact the writers at qinjize@chinadaily.com.cn and chengguangjin@chinadaily.com.cn
Xinhua contributed to this story.