Medical care comes to religious groups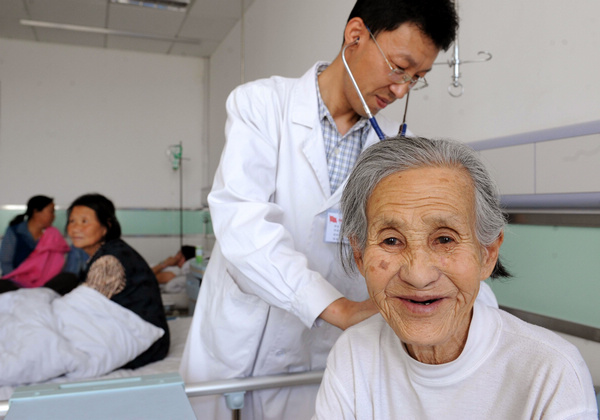 A doctor at a hospital in Shenmu county, Shaanxi province, performs a checkup on an elderly woman with pleural eff usion, an accumulation of excess fl uid surrounding the lungs. Health insurance covered more than 99 percent of the inpatient's medical fees. In 2009, the remote county launched a program which reimburses about 90 percent of inpatient expenses for its residents. [TAO MING / XINHUA]
Universal policy funded by government subsidies extends coverage to communities including monks, nuns, report An Baijie in Dengfeng, Henan province and Shan Juan in Beijing.
Shi Yanlin was taken aback five years ago when some monks asked him how to get coverage under the country's health insurance policies.
Shi, 52, executive director of Shaolin Temple, China's most famous Buddhist monastery, with a history of more than 1,500 years, is in charge of the temple's health and medical issues.
Since 2003, when the country began establishing universal healthcare, religious groups, including Shaolin monks, began to get coverage.
So far, more than 1.3 billion people on the Chinese mainland have joined one of the three basic medical insurance policies that cover either urban or rural residents.
Government subsidies, not mandates, led to that high coverage, said Gordon Liu, a professor of economics at Guanghua School of Management of Peking University.
In the case of Shaolin, to find out how to buy health insurance for the temple's monks, Shi submitted a proposal to the local government during the annual session of the Henan provincial political advisory body in 2008.
He said health insurance should cover the monks even though there were no regulations on religious groups' health insurance at that time.
Jing Shuzhen, director of Dengfeng city's health bureau, said that the government started to plan for the monks' health insurance after receiving Shi's proposals.
"There are many Buddhist and Taoist temples in Dengfeng in Henan, and their demand for medical health must be met by the government," she said.
According to Shi, Shaolin Temple's executive director, the temple spent less than 30,000 yuan ($4,800) buying the government-held public health insurance for its staff members last year, but they finally got a reimbursement of more than 90,000 yuan in hospital costs.