Office rents slowing down
Landlords to offer more incentives to counteract decreasing demand
Office vacancy rates in China will continue to rise in 2013, with rents under pressure after skyrocketing over the past few years, industry experts said.
International real estate service provider CBRE expects new office supply will remain abundant this year, most of it coming from emerging areas.
"Over the next few quarters, rents will be under some pressure - especially for offices located in newly developed areas," said Frank Chen, executive director of CBRE.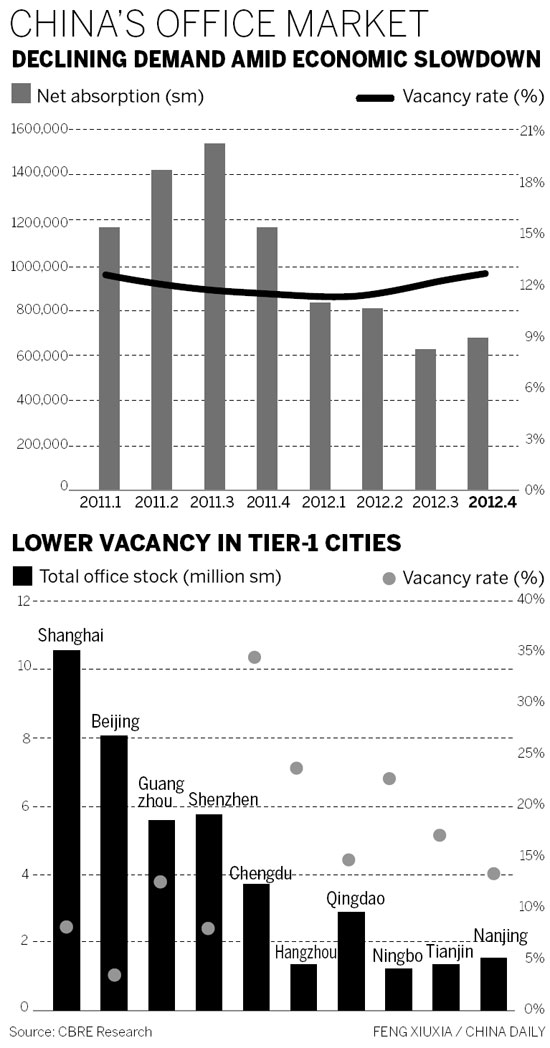 Beijing's rent growth of Grade A offices is expected to slow to about 5 percent in 2013, as elevated rent levels have decreased tenants' affordability dramatically over the last three years, real estate service provider Savills said in a report.
Despite limited leasable space in the market, rent growth slowed on the back of weaker demand.
Grade A office rents in Beijing increased by 0.9 percent in the fourth quarter of 2012 to 317.8 yuan ($51) per square meter per month, with annual growth falling to 13.8 percent from 44.2 percent in 2011, the report showed.
"A number of landlords began to offer more rental incentives to combat slowing demand and retain existing tenants, given the current sluggish economy," said Joan Wang, head of research at Savills Beijing.
The demand for office space across China continued to decrease in 2012 due to a sluggish economy, with net absorption falling by more than 40 percent year-on-year, statistics from CBRE showed.
In response to the slowdown of the domestic economy - compounded by a number of uncertainties in the global economy as a whole - many multinational companies suspended their expansion plans in China in 2012.
A number of Chinese companies have also slowed down the pace of their business expansion, which has had a profound impact on the office market.
From a regional perspective, the net take-up in eastern and northern China both shrank by more than 50 percent, CBRE statistics showed.