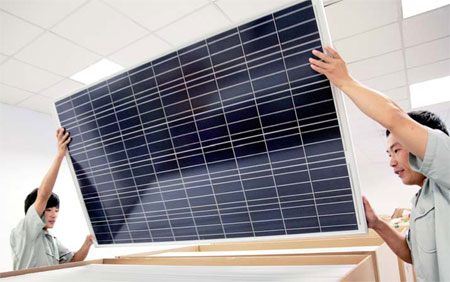 Workers load a solar panel at the Trina Solar plant in Changshu, Jiangsu province. Provided to China Daily 
Chinese solar panel makers confident of prospects in Europe, despite EU's anti-dumping investigation
Restricting solar panel exports from China will only lead to higher product costs and derail the development of the clean energy sector if the European Union persists with its anti-dumping stance, experts say.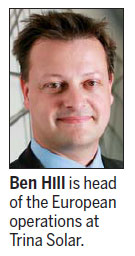 Chinese solar companies, most of which have Switzerland as their European headquarters, have outlined the solar industry scenario in a written warning sent to EU officials in Brussels, even as the agency decided to go ahead with its investigation.
The EU had followed the US' move and indicated earlier that it would be collecting data and financial information on the European and Chinese operations of the solar panel makers over the next two months as part of its investigation. The commission will announce its results by the middle of this year.
The United States decided in October to impose punitive anti-subsidies and anti-dumping tariffs on imported Chinese solar panels over the next five years, with the highest one at about 250 percent.
"We are closely working with the European Commission and also with our customers to ensure that no biased decisions are taken," says Ben Hill, head of the European operations at Trina Solar. The Changshu, Jiangsu province-based solar company manages its European operations from Wallisellen, Zurich.
According to Hill, it is not correct on the part of the EU to put all Chinese solar companies under one umbrella. "Solar panel prices may go up by as much as 25 percent if Brussels levies anti-dumping penalties," he says.
"We don't believe that such a scenario will actually happen as it would damage the overall market," Hill says, adding that Trina has more than 100 employees in Europe, most of them based in Wallisellen.
Hill says that be it China or Europe, his company does not believe in trade barriers and believes in equal access to each other's markets. "This is the only way to make solar technology sustainable and viable compared to gas, coal, nuclear and other options."
"But if there is a price surge (after the anti-dumping penalty), solar panels will no longer be viable in Germany and other markets," Hill says.
An immediate result of that would be stoppage of work on new solar parks. "If we (investors) don't get any returns, we are not going to invest. Therefore there will be no solar market," Hill says.