Guangzhou officials start process of revealing personal holdings to public
Fan Songqing expected a heated debate over a proposal asking officials to report their assets after he became the first government and Party official in Guangzhou, capital of Guangdong province, to disclose his family's assets four days ago.
In a proposal to the annual session of the city's political consultative conference, which ended on Tuesday, he said that Guangzhou should be a pioneer in promoting the practice, asking that around 2,000 officials in the city report their family assets, including houses, land, cars and other assets worth over 5,000 yuan ($804).
After making the proposal, he told the Guangzhou-based Southern Metropolis Daily that his family has a 74 sq m home.
"I also sold another 50 sq m home in 2003. It was subsidized by the government," Fan said.
The 58-year-old official, who currently serves as deputy secretary-general of the city's political consultative conference committee, said he did not feel pressure from government officials on the issue.
"There was a heated debate over the proposal after I told the newspaper about my family's assets. But I've never felt pressure since I do not have other extra assets or illegal earnings," he told China Daily on Tuesday.
At a panel discussion, he also told members of the city's political consultative conference that his monthly salary was around 10,000 yuan.
"I have paid attention to corruption cases involving government and Party officials in recent years. Those who have more family assets and large illegal incomes are afraid of reporting them," Fan said.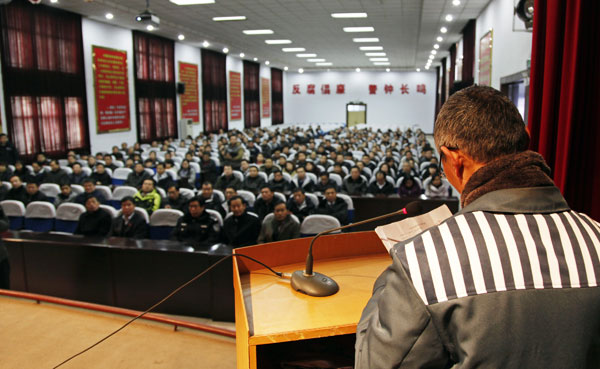 A prisoner convicted of job-related crimes talks about his criminal experiences at a public meeting in a prison in Anyang, Henan province, on Monday. Li Gang / for China Daily