Record pollution levels hit transport as face mask sales surge, report Wu Wencong, Tang Yue and Cui Jia.
For many years, Peking Duck and Peking Opera were probably the two most famous items named after the capital.
However, they now face a strong challenge. The heavy smog and haze that enveloped the city on the weekend — pushing the pollution index to a record high — has seen "Beijing Cough", a term coined by the city's expat community, becoming increasingly popular with local media and Chinese citizens.
The capital's Third Ring Road is shrouded in haze on Saturday as the city's air pollution reached hazardous levels. [Agencies]
Saturday saw the density of PM2.5 — air particles smaller than 2.5 microns and able to enter the lungs and even the blood stream — climb higher than 900 micrograms per cubic meter in several districts in the capital, according to the Beijing Municipal Environmental Monitoring Center. That's the highest level recorded since Beijing began publishing the data in early 2012.
The World Health Organization considers the safe daily level to be 25 micrograms per cubic meter.
However, the problem has now become a national phenomenon, rather than one unique to Beijing. On Saturday, levels of PM2.5 passed 300 micrograms per cubic meter in 33 of the 74 cities with systems equipped to monitor the particles.
The heavy smog saw at least 25 international and domestic flights to and from Beijing Capital International Airport cancelled by Sunday morning. Many highways were closed in Shandong and Jiangxi provinces, and the poor visibility resulted in a number of collisions on Sunday morning, claiming one life in Shaoyang, Hunan province.
China will have to endure this hazardous weather until Jan 16, when cold fronts move into the central and eastern parts of the country, according to Ma Xuekuan, chief weather forecaster at the National Meteorological Center, on Sunday.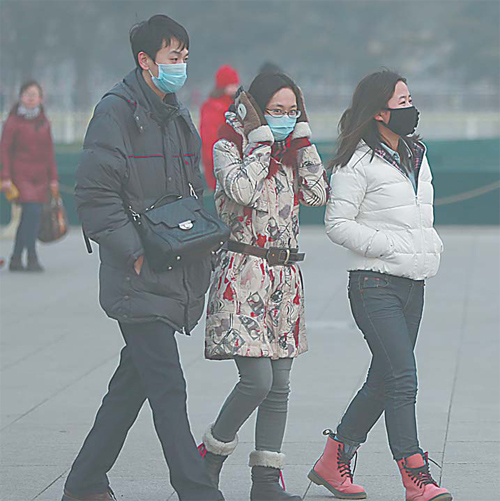 Visitors to Tian'anmen Square wearing face masks as protection against the heavy pollution. [Feng Yongbin/China Daily]