Since the global financial crisis in 2008, the huge potential for domestic demand in China has become a new engine for a global economic recovery and a driving force for innovation.
China's consumer market has seen rapid growth in recent years. Since 2000, the country's consumer spending has maintained average year-on-year growth of 14.9 percent.
In 2011, China's spending on consumption was about one-third of the United States', at $3.48 trillion, or 22.47 trillion yuan. But although the nominal value of the domestic market was enormous, China's per capita consumption level was still very low, and there will always be a driving force here because of the large room for improvement.
In the first three quarters of 2012, consumption contributed to more than 55 percent of economic growth, exceeding that of investment (50.5 percent) for the first time since 2001 and marking a significant change for the world's second-largest economy.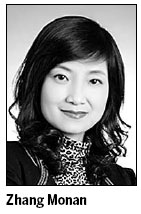 According to the target set at the 18th National Congress of the Communist Party of China, the country's residential income will double by 2020, releasing 64 trillion yuan ($10.27 trillion) in purchasing power.
If the Chinese economy continues to expand at 7 percent in the next few years while the United States' grows by 2 percent, and the exchange rate of the renminbi to the US dollar maintains a 3 percent annual increase, China's consumption level will be more than half that of the US by 2015, and 80 percent of it by 2020.
Growing demand will generate considerable trade volume. Data show that China was the world's second-largest importer in 2010, and the country's trade surplus has been declining: from 10 percent of its GDP in 2007 to 2.8 percent in 2010.
According to an estimate by the State Information Center, China's imports will increase by an average of 27 percent annually from 2011 to 2015, five percentage points faster than exports. And the value of the country's imports will exceed $10 trillion in the next five years, providing more investment opportunities and an enormous market for foreign companies.
A survey by the Development and Research Center of the State Council, China's cabinet, showed that for 394 domestic and foreign companies, market, innovation base and export destination are the top three choices for their strategic orientation in China.
The "reshoring" of US manufacturers is also a result of more companies eyeing the Chinese market and moving their innovation facilities to China. The massive Chinese market will continue to be attractive to global investors.
Statistics from the Ministry of Commerce show that more than 480 of the Fortune 500 companies have established a presence in China, and together have built more than 1,400 research and development centers in the country, as this is where their market is.
In the early stages, multinationals regarded China as a target market and R&D center, but now China has also become a center for their decision making.
Take the healthcare sector as an example. Multinational pharmaceutical companies have been moving their innovation centers to China in recent years, because they see growing demand for medicines as the Chinese government continues to push healthcare reform.
China's medical market is expected to grow from $25 billion in 2009 to $80 billion in 2013 and $220 billion in 2020. In 2015, China will overtake Japan as the world's second-largest medical market.
For China, such a relocation of R&D centers may provide the impetus for the transfer of the entire industrial chain, posing both challenges and opportunities.
Domestic companies should prepare to compete for Chinese consumers by getting closer to the market and strengthening technical upgrades to guide escalating domestic demand.
China's market, together with "made in China" products, will be the country's new comparative advantage
The author is a researcher with the State Information Center.