Sales in China's online business-to-customer retail sector could hit 785 billion yuan ($126 billion) in 2013, nearly double this year's amount, researchers estimated on Wednesday.
They added that large B2C platforms such as Tmall and Jingdong Mall are set to strengthen their lead.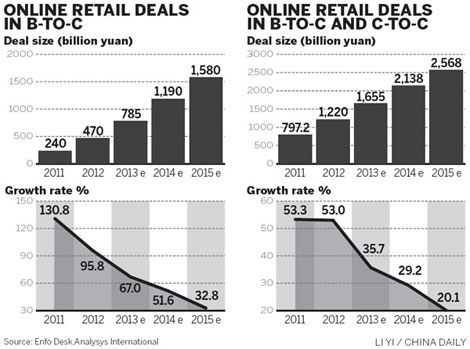 "Tmall and Jingdong Mall have gradually become the driving force of the nation's e-commerce industry, replacing the customer-to-customer model represented by Taobao.com," said Chen Shousong, an analyst with research company Analysys International.
Turnover in the country's B2C e-commerce sector is projected to reach 470 billion yuan in 2012, a jump of 95.8 percent year-on-year, according to an Analysys International report.
Over the past six months, the sector witnessed the most furious competition it has ever seen, with price wars in mid-August and a series of year-end promotions.
"Intensified competition among large platforms will further narrow retail profit margins. However, it also helped set the tone for the nation's B2C sector with large shopping platforms set to dominate the market in the years to come," said Chen.
The report did not say how much market share the nation's top B2C players are going to take in 2013.
In November, Tmall and Jingdong Mall accounted for more than 70 percent of visits to Web pages in the B2C sector, according to data from Huihui.cn, an e-commerce data analysis website under NetEase Inc.
Top brick-and-mortar chain store operators, such as Suning Appliance Co Ltd and Gome Electrical Appliances Holdings Ltd, also joined the e-commerce frenzy, said the report.
Although their market share remains small compared to Tmall and Jingdong Mall, the traditional retailers' online operations will be able to challenge sector leaders in the long run, it said.
In addition, the report estimated that the growth rate of China's e-commerce industry is set to decline in the coming years, partly because retailers will find it is harder to attract new customers.
Jingdong Mall pledged to explore new services based on mobile Internet and cloud computing technologies in a bid to attract shoppers.
Alibaba Group, the parent company of Tmall, also pledged to expand in the nation's third and fourth-tier cities where the potential purchasing capacity is huge, said Zeng Ming, Alibaba's chief strategic officer.
Earlier this month, Alibaba announced that the cumulative turnover of the group's retail subsidiaries, Taobao.com and Tmall.com, exceeded 1,000 billion yuan in the first 11 months of this year, fueled by increasing demand from small and mid-sized cities.
Tmall.com has contributed around 200 billion yuan in sales this year, according to Polo Shao, chief risk officer of Alibaba.
Chen Limin in Beijing contributed to this story.
gaoyuan@chinadaily.com.cn
Related Readings
E-commerce boom brings shopping revolution

China's e-commerce enviroment improved

Securing China's e-commerce growth

Online retailer posts higher-than-expected earnings