Opening the door to private investment in State-owned railway infrastructure projects has been acknowledged as a breakthrough in the financial reform taking place in Wenzhou, Zhejiang province.
The formal sale of 50 percent of the shares in the S1 railway line - a planned 52.22-km route - at designated branches of Industrial and Commercial Bank of China Ltd in the city on Dec 12 attracted great investor attention.
The starting price of the shares was 10,000 yuan ($1,600), with a guaranteed annual after-tax return of 6 percent.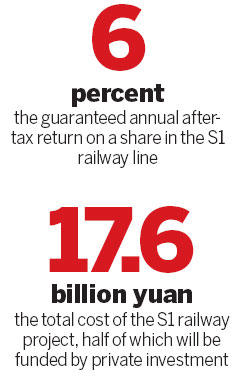 The total cost of the S1 line is about 17.6 billion yuan, half of which will come from individuals and private enterprises.
Wenzhou Xingfu Rail-transit Shares Holding Co was launched to operate the project, valued at 8.8 billion yuan, and attract investors to buy the shares at designated banks.
"The selling of shares is a move in the financial reform to help local people make wiser and safer investments in government construction projects," said Ding Jianyu, chairman of Wenzhou City Railway and Rail Transit Investment Group Co Ltd, the State-owned enterprise in charge of the project.
Ding added that the private investment benefits railway construction, can solve financial problems, and also offers a reliable method for private capital to be applied with better returns.
The first installment of 1.5 billion yuan worth of S1 line shares was made available for people to buy through April 2013.
"Buyers will receive dividends as business partners of the company," said Zhang Xincai, a financial manager at Wenzhou City Railway and Rail Transit Investment Group Co Ltd.
Zhang added that it is a good opportunity to get the private capital flowing into a huge project, in this case a reliable and profitable way to make an investment.
S1 shares have been a top-selling financial product over the past few weeks among individual investors in Wenzhou.
"The total amount of money raised in the first two days exceeded 100 million yuan," said Huang Yingying, a financial manager at an ICBC branch in Wenzhou.
Huang added that all buyers are individuals. No local private-owned enterprises have sought to invest yet.
The value of S1 shares sold to individual investors through Dec 21 exceeded 450 million yuan, according to updated figures from ICBC in Wenzhou.
"A relative suggested I buy 20,000 yuan of S1 shares, which is operated by a State-owned company with higher returns compared to other financial products available in the banks," said Zhou Xuan, a 22-year-old office employee in Wenzhou who spent most of her savings to buy S1 shares.
Zhou added that it is safer to invest in government projects than to put cash into private lending agencies.