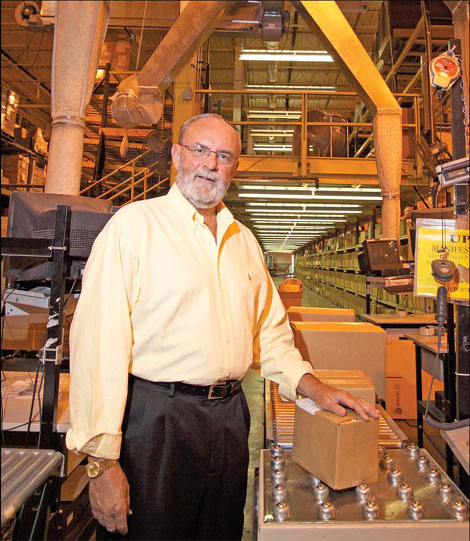 Jim Tompkins, CEO of Tompkins International, believes China needs to develop a stronger internal supply chain. [Provided to China Daily]
China needs to get a move on when it comes to providing good local delivery, says logistics expert
With domestic consumption at the forefront of China's economic future, Jim Tompkins says logistics companies need to sharpen their strategy when moving products from A to B.
The 65-year-old founder of the supply-chain consultancy Tompkins International recognizes China's power in moving masses of products around, but believes many companies lack an overview when it comes to getting goods where they need to go.
"What China has is a very mixed bag in that the export supply chain is running well, it's very good and quite sophisticated, but the internal supply chain is weak," he says.
Tompkins was speaking from a hospital bed where he was recovering from minor surgery in Raleigh, North Carolina, home to Tompkins International's head office.
As many logistics enthusiasts do, he has a penchant for order and organization, compartmentalizing each step of the supply chain.
"There are six major components, consisting of plan, buy, make, move, store and sell," he says. "Right now China has the very limited view of an export-only supply chain. They are capable of making the product and sending it to the dock. When producing for consumption in China they have weakness in the planning function."
This includes how many factories a company should have, where they should be and how goods should be transported between factories and distribution centers.
"Where they really do well is in between the four walls - the four walls of the factory and the four walls of the warehouse."
An author and contributor to more than two dozen books, including his most recent Caught Between the Tiger and the Dragon, published in 2009, as well as the supply chain blog GoGoGo!, Tompkins has spent the past 30 years working on bridging the outside world and the warehouse.
One of the biggest problems facing China's internal distribution is fragmentation and saturation of the market, with China's largest logistics company occupying less than 1 percent of the total industry.
"If you're working with a big company that has 1,000 trucks and 1,000 drivers versus 1,000 different companies with one driver each, you're going to be much more efficient," he says.
Compounding the pressure on China's internal supply chains is the pace at which the nation is gravitating toward online shopping.
With e-commerce expecting to hit $1.4 trillion (1.06 trillion euros) by 2015, $380 billion of that is expected to come from China. The US' projection is $260 billion.
To cope, he believes China needs to expand its vision of what a supply chain involves, including crucial steps such as deciding how much to make, where to store it and how to place it effectively into local distribution networks.
"You're going to see China running into three big problems," he predicts. "The first is cost. With inefficient distribution, you have too much labor and too much transportation cost."
He believes the second problem will be in Chinese retailers effectively dealing with inventory to ensure goods are at hand to be delivered quickly.
"And when customers don't get their products on time or at a reasonable price, it will result, thirdly, in problems with customer satisfaction."
Tompkins' interest in understanding the way goods move from company to consumer began while he was studying for his BSc in industrial engineering at Purdue University, Indiana, in 1969.
After gaining a Master's and a PhD in industrial engineering, both at Purdue, Tompkins decided to join the military, where he became city manager for the army's Fort Monmouth in New Jersey.
"I had a power station, 3,000 residents, as well as two retail compounds to take care of. I also had a warehouse full of materials and tools," he says. "It was my job to understand and direct the flow of materials and the flow of labor to take care of the fort's needs."
It was not until a decade after leaving the fort that he began earning his keep in what is now known as the supply chain.
While working as a professor at Purdue University, he was approached by Amaco Plastic Products to work on creating a supply-chain process for the manufacture and use of plastic soda bottles.
Tompkins helped design the most efficient method of constructing - beginning with the manufacture of the bottle, finishing at the factory where it would be filled and capped by the company's client - in this case Coca-Cola.
His designs were quite successful, laying the foundation for how plastic soft drink bottle manufacturing is done today. Realizing there was more money to be made applying his knowledge rather than passing it on, Tompkins started his company with his wife in 1975.
His company now has branches across the US and in South America, and, since 2008, in China.
Tompkins says the "u-turn" of China from an export market to one focused on internal consumption has created a challenge for foreign companies.
"Foreign companies are now having to learn the reverse - how to distribute their products that were being made in China to Chinese consumers," he says.
toddbalazovic@chinadaily.com.cn