Yu Min doesn't consider herself a shopaholic but every other day, after her routine afternoon nap, the former university teacher restarts the Toshiba desktop computer given to her by her daughter, logs into her account with taobao.com, the country's largest online shopping bazaar, and, in her words, snaps up some little stuff to "make life better".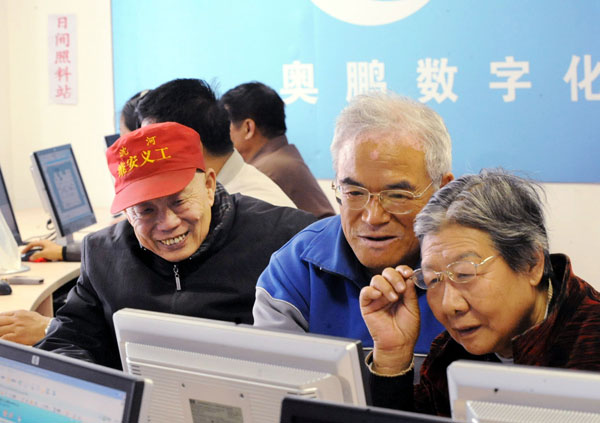 Retired workers surfing on an e-commerce website in a residential community center in Shenyang, the capital city of Northeast China's Liaoning province. The growing business of Chinese e-commerce sites previously largely ignored the nation's aging population. However, a recent report released by taobao.com showed that more than 1.75 million Chinese seniors (defined as aged above 50) have shopped using the website. Dong Fang / For China Daily
The "little stuff" ranges from a floral patterned sofa cover, to an eggbeater, bags of walnuts and, of course, pieces of trendy apparel to keep the 53-year-old "in fashion". And it costs no more than 500 yuan ($80.26) a month to make the life of Yu and perhaps also her husband and daughter better.
"It's like a mouse falling into a cheese bar. There are so many things you never thought you need but actually want to buy," said the Wuxi native, from East China's Jiangsu province, admitting taobao.com has become her latest penchant since she reluctantly retired.
Yu's new hobby forms part of the growing business of Chinese e-commerce sites that previously largely ignored the nation's aging population. A recent report released by taobao.com showed that by October more than 1.75 million Chinese seniors (defined as aged above 50) have shopped using the website and 1.3 million successfully negotiated the entire payment process alone.
Female shoppers outnumber men. Seniors in Shanghai appear to be the most active in the nation, accounting for about 10 percent of the total population, with Beijing coming next. Apparel tops are the most popular item for senior online shoppers. Nearly 9 million items of clothing have been purchased on taobao in 2012.
"Clothes account for most of my spending online," said Yu, complaining that most malls and fashion outlets in the city are "built for her daughter's generation".
"The senior market is like an untapped goldmine," said Yao Jianfang, a researcher at the Hangzhou-based China E-commerce Research Center.
"Although the current (senior online shopping) population seems to be the tip of the iceberg compared with the total number of online users in China, who number 500 million, what cannot be neglected is that the whole iceberg is getting old and becoming potential customers of the market."
By the end of 2011, the number of people aged 60 and above was 190 million, accounting for 14 percent of the total population, according to the China National Committee on Aging. By 2013, the number is likely to exceed 200 million and, by 2050, it will account for one-third of the national population.
Zheng Jiaqing, the founder of aibama.com, one of the earliest online shopping websites targeting the senior market in China, sees the market as a "dormant volcano that will erupt sooner or later".
"Since we built the website in 2009, both the transaction scale and the visitor numbers have grown very quickly. In addition, there are more and more seniors completing the whole shopping process by themselves," said Zheng, whose website cooperates with more than 1,500 suppliers.
The bestsellers on the website are massage vibrators and sports and entertainment equipment, which Zheng said reflect two important needs of the elderly: healthcare products to increase the potential to live for more years and time-killing products to make the increased longevity more enjoyable.
An unpleasant shopping environment in the real world may also be a reason pushing the elderly into the virtual one.
A survery conducted by Beijing Consumer Association, which polled 1,252 retired citizens in the capital city, found that 93 percent of the interviewees said they would shop at large or medium supermarkets, defined as those with a business space above 3,000 square meters, at least once every week. More than 70 percent of them said they found these supermarkets environmentally dissatisfying, with problems such as dirty toilets, incomprehensible price tags or shouting by sales assistants.
Small print on price tags is the biggest worry for the elderly, followed by a fear of being perceived to be too slow and being in poor physical condition that makes long waiting times uncomfortable, the report concluded.
"Online shopping is free from all the problems in the real world and it saves a lot of time and travel, although at first getting access to the virtual shopping platform was a little bit tricky," said Yu, who learned about online shopping from her younger colleagues two years ago.
"The online market is a step ahead of the real one, marketing to and making money off retirees, even though the online shopping process is not very 'senior-friendly'," said Yao of China E-commerce Research Center.
"But that could also mean big opportunities for products that help the elderly use online shopping websites, such as voice recognition software, or simply customer services that are exclusively for the old," she added.
xujunqian@chinadaily.com.cn