Economic policies and currency to remain stable for year ahead
Cutting tax and helping more rural workers settle in cities will be among the reforms pursued through steady economic growth, top policymakers said at a key conference plotting economic strategy for the year ahead.
Mustering up "greater political courage and wisdom" and "pushing forward" were vital to achieving reform, they said as a number of measures, from raising bank lending to urbanization, were backed.
The two-day Central Economic Work Conference over the weekend also endorsed "steady growth" for the world's second-largest economy.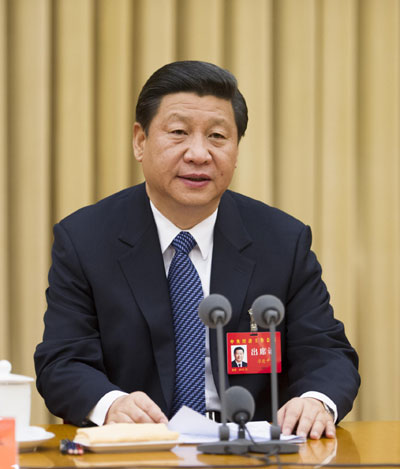 Xi Jinping
, the Party chief, attends a conference in
Beijing
over the weekend to map out economic policies for 2013.[Photo/Xinhua]
Policymakers vowed to enlarge capital supply for development, including raising bank loans and keeping the currency stable.
But the economy must grow at a pace that ensures quality, efficiency and sustainability, they said.
They also pledged to strengthen and improve macro-economic regulation to ensure its "healthy and sustainable development".
The fundamental role played by domestic demand was stressed, and both public and private investment will be encouraged.
China will keep up proactive fiscal and prudent monetary policies, along the general lines of 2012, policymakers agreed and vowed further reform of the tax system, including structural tax incentives to different industries.
They also promised increasing support to agriculture, the rural economy and innovation, and vowed to raise the standard of living.
The conference grabbed market attention even before it started, with the Shanghai Composite Index in A-shares rising 4.3 percent on Friday, its biggest one-day gain since 2009.
Recent data have suggested an upturn in the Chinese economy.
Many economists predict that the growth target for 2013 is likely to maintain its 2012 level of 7.5 percent.
Third-quarter GDP growth was 7.4 percent, but economists said the economy had bottomed out and showed signs of recovery.
Manufacturing activity expanded to a 14-month high in December, according to the HSBC Purchasing Managers' Index, released on Friday.
The flash reading of the index rose to 50.9 in December from 50.5 in November, indicating that manufacturing activity has improved and growth recovery is gaining momentum.
The conference carefully analyzed the current overseas and domestic economic scenarios and made plans for economic and social development for the next year.
 Special Coverage:

Statement issued at the conference:
More investment to boost Chinese economy next year
China opens key economic work meeting
China strives to develop green economy