Price of 'winter worm summer grass' exhibits steep increase
There are countless tales of people marrying for money — but for mushrooms?
In one area of the Tibet autonomous region, marriages of convenience by couples trying to get their hands on valuable caterpillar fungus were so common that authorities introduced rules to put a stop to it.
The fungus, which is used in traditional Chinese medicine, has in the past decade made millionaires out of herders who are lucky enough to live in places where it grows, mostly western parts of the country.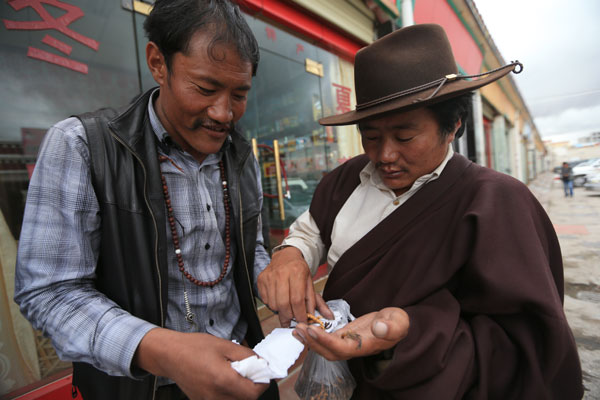 Two dealers in caterpillar fungus in Nagqu prefecture, the Tibet autonomous region, in September. CUI MENG / CHINA DAILY
Because only residents are allowed to harvest the fungus, some people resort to fake marriages to get a piece of the action.
"We call them caterpillar fungus couples," said Lenwang Tanzin, an official in Baqen, one of the six counties that produce the fungus in Tibet's Nagqu prefecture. "They marry someone in the village so they can move their registered residence and get harvesting rights."
Now the county requires couples to be married for three years before they can apply to change residency, he said.
The rule is one of several measures introduced in recent years to ensure that a resource many herders rely on for their income is harvested in a sustainable way.
Yet, even with the rules, residents say over-harvesting and unpredictable pricing remain serious concerns in the long term.
Caterpillar fungus — locals call it winter worm summer grass — is used in traditional Chinese medicine as a tonic to treat fatigue and respiratory and renal diseases, and to boost the immune system and sex drive. It grows on high-altitude grasslands in Tibet, as well as Qinghai, Yunnan, Sichuan and Gansu provinces.
More than 16 metric tons of caterpillar fungus was harvested in Nagqu in May and June, an amount worth 1.96 billion yuan ($314 million) — the smallest harvest since 2008, when the market value was at its highest.
Harvests in Nagqu have fluctuated, but the number of people harvesting has only risen. More than 15,000 took to the hills to pick the fungus this year, including primary and middle school students. The figure was 12,220 in 2008.
To limit the numbers, Tibet has started issuing annual licenses, which cost 200 yuan. It was the first region to introduce such a restriction.
Wang Baoshan, the official in charge of the system in Nagqu, conceded that the measure has only been a partial success. He estimated that only 45 percent of the people who harvested the fungus this year were licensed.
The ban on tools such as shovels has been more effective, he said. Currently, only screwdrivers may be used to dig dirt, and people must re-cover the area they disturb with grass to make sure the fungus there spores in the following year.
Uncertainties
Strict boundaries for collection rights were set five years ago, and villagers have zero tolerance for anyone encroaching on their areas. Disputes can lead to bloodshed, so one of officials' chief responsibilities is to prevent possible conflicts.
This year, Wang's team stopped 498 people trying to sneak into harvest areas.