The $15.1 billion takeover of Canadian oil and gas producer Nexen Inc by China's State-owned CNOOC Ltd is not yet wrapped up despite the Canadian government's blessing after months of heated debate, Nexen's chief executive said on Monday.
"We are nowhere near done," Nexen interim CEO Kevin Reinhart told Reuters as he left a business conference about economic ties between Canada and Asia. He declined to give his reaction to Ottawa's decision on Friday to approve the deal, saying it was too early.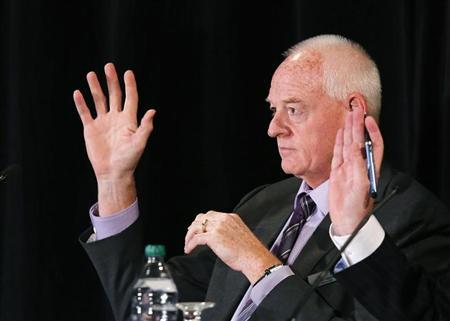 Kevin Reinhart interim Chief Executive Officer and President at Nexen votes during the Nexen special meeting of shareholders in Calgary, Alberta Sept 20, 2012. [Photo/Agencies]  
A further decision on the high-profile transaction still rests with a secretive US foreign investment panel, which gets a say because Nexen has exploration and production assets in the Gulf of Mexico.
Investors had been assuming that Canadian Prime Minister Stephen Harper's green light on Friday - after deliberating on how much control foreign state-owned enterprises may have over the country's energy resources - would be the biggest hurdle.
In a statement released early on Saturday, Nexen and CNOOC said the deal's closing remained subject to "the receipt of other applicable government and regulatory approvals, and the satisfaction or waiver of the other customary closing conditions."
A source familiar with the matter highlighted the ruling by Committee on Foreign Investment in the United States, or CFIUS, as the main regulatory decision still remaining.
"That's the principal one," said the source, who spoke on condition of anonymity because he was not authorized to comment on the matter. He would not speculate how long the committee, which is led by Treasury Secretary Timothy Geithner, might take to rule.
In late November, the companies said they withdrew and resubmitted their application for CFIUS approval and discussions with the committee were taking place "with a view to completing the CFIUS review process as expeditiously as possible".
The panel has the power to negotiate or impose conditions, including divestitures and security-control agreements to mitigate any national security threats, possibly forcing the combined company to sell interests in the Gulf, where Nexen's production averaged 14,000 barrels a day in the third quarter. It also has a stake in the recently discovered Appomattox field, operated by Royal Dutch Shell.
Nexen stock rose steeply on Monday, the first trading day since the Canadian decision. But the shares still reflect some risk that the transaction may not close as planned. Nexen's shares on the New York Stock Exchange closed up 14 percent at $26.77, still below the CNOOC bid price of $27.50.
Its Toronto-listed shares finished up 13.5 percent at C$26.44 ($26.79).
Timeline:
CNOOC joins Nexen in Gulf JV Mexico JV -- Dec 2, 2011
CNOOC's Nexen deal expected to open two-way street -- July 25, 2012
CNOOC to stick to market procedures in Nexen deal -- July 27, 2012
CNOOC pushes ahead with Nexen acquisition --Aug 22, 2012
Nexen schedules vote on CNOOC's $15.1b offer -- Aug 27, 2012
CNOOC Nexen bid 'net benefits' Canada and China -- Oct 9, 2012
Canada extends review of CNOOC's Nexen bid -- Oct 12, 2012
CNOOC's Nexen bid review extends another 30 days -- Nov 5, 2012
Nexen deal approval 'in sight' -- Nov 10, 2012
CNOOC, Nexen reapply for US deal approval -- Nov 28, 2012
Nexen deal resubmission part of approval process -- Nov 30, 2012
Canada OKs CNOOC's purchase of Nexen -- Dec 7, 2012
Comments:
CNOOC has long way to go after Nexen takeover