In what is being widely interpreted by analysts as a political signal, Xi Jinping conducted his first official trip as new Party chief to Guangdong, the southern province where China's market-oriented reforms were launched.
Due to its proximity to Hong Kong, Guangdong was chosen as the testing ground by Deng Xiaoping three decades ago for "reform and opening-up".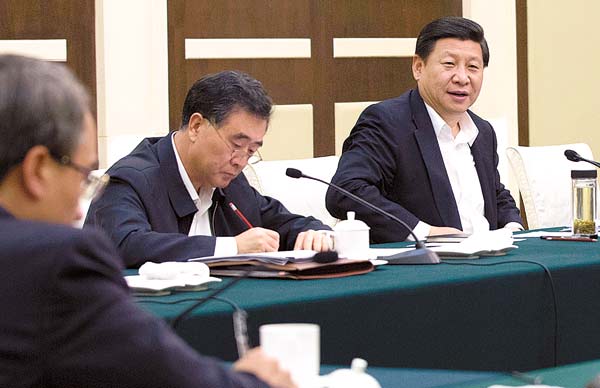 Xi Jinping, general secretary of the Communist Party of China Central Committee, and Wang Yang, Party chief of Guangdong, meet with government officials and business leaders in Guangdong province on Sunday. [Photo/Xinhua]
Xi met with business leaders in Guangzhou on Sunday in the run-up to the annual high-level Central Economic Work Conference scheduled to convene later this month, the Xinhua News Agency reported on Monday.
Xi was elected as the General Secretary of the Communist Party of China Central Committee at the Party's 18th National Congress last month.
In his meeting with the business leaders he stressed the importance of healthy and sustainable development.
He also said China must "focus clearly" on the ever-changing global situation. While the achievement and long-term fundamentals of the economy must be recognized, China must also be aware of potential obstacles, he said.
China must not attempt to ignore its problems and must "strive for the best but be prepared for the worst", he said.
Difficulties and challenges, as well as advantages and opportunities, should be taken into account to promote healthy economic growth, Xi said.
In the face of complicated and fluid conditions, confidence and awareness of risks are needed to make progress while ensuring stability, he noted.
"We should remain cool-headed. We should acknowledge the economic and social achievements we have made so far and recognize that the long-term fundamentals will remain sound," he said.
"Meanwhile, we should also recognize that adverse domestic and overseas conditions will be long-term. We should not run from challenges nor cover up problems,'' he said.
Xi also urged accelerating economic restructuring and pushing innovation forward. These goals were imperative, he said.
After listening to opinions at the meeting about the economy, Xi urged the relevant departments to solve problems through, among other things, deepening reform and enhancing law enforcement.