A total of 25.2 billion yuan ($4.01 billion) worth of unlocked shares from 19 companies are expected to flood the Shanghai and Shenzhen stock markets this week, adding pressure to the already depressed market.
The release of the shares - as the market is already suffering from severe a oversupply - is expected to plunge the market into a deeper slump, Guoyuan Securities Co Ltd said in a report on Monday.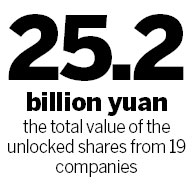 The benchmark Shanghai Composite Index fell 1.03 percent, or 20.35 points, to 1,959.77 on Monday. It also hit its lowest point of 1957.88 in 46 months at noon.
Although initial public offerings are on hold, liquidity in the stock market will be hit by the pressure brought on by unlocking the large amount of shares, analysts said.
And there is no relief in sight. An even larger number of unlocked shares is expected to come into the growth enterprises market and small and medium-sized enterprises markets next year, doubling the number released this year.
Some observers are puzzled. In an editorial on Monday, the People's Daily asked why the market is doing so badly when every economic indicator is pointing up.
Although several positive signals have been seen - including the fact that the Manufacturing Purchasing Managers' Index bounced back to expansionary territory for the first time in 13 months to stand at 50.4 in November - it seems that investors still lack confidence, the editorial said.
Some analysts said that just as the market was going to take the cue from the bullish fundamentals, investors have started to get worried about a possible lack of liquidity because of the unlocking of more shares this month and the huge backlog of companies seeking IPOs.
About 800 companies have filed IPO applications and are waiting for the approval of the China Securities Regulatory Commission.
The regulator has not allowed any IPOs since early October.
According to data provided by Southwest Securities, 180.9 billion yuan worth of unlocked shares will be released onto the market in December, up more than 60 percent compared with last month.
The deluge of those shares has forced a downward re-valuation of the share prices of as many as 60 listed companies.
The market value of the unlocked shares will reach its peak in December, and will be also the highest since September 2011, said Zhang Gang, an analyst with Southwest Securities.
Meanwhile, Tang Jiarui, an analyst with Everbright Securities Co Ltd, said the company expects the effect of the unlocked shares to last until the end of the year.
xieyu@chinadaily.com.cn