Income from underwriting at many of China's stock brokerages has been greatly reduced by the prolonged slump in the market.
This is dealing a double blow to brokerages, already hard-hit by shrinking commissions and investment returns.
Latest industry data show combined revenue generated by the underwriting business, mainly from IPOs, in the first 11 months of this year dropped by 58.2 percent year-on-year to 5.43 billion yuan ($860 million).
Wind Information Co Ltd, a securities information provider, says 36 of the 77 qualified sponsors, mostly stockbrokers, made no profit from the underwriting business this year despite an increase in fees, which rose by an average 6.6 percent compared to 4.4 percent in 2010.
The largest underwriter by volume, Guosen Securities Co Ltd, was reported to have made 862 million yuan in sponsoring 22 new share issues, followed by CITIC Securities Co Ltd, which made 728 million yuan from 13 separate transactions.
The share of underwriting income to total revenue for the stockbrokerage industry has risen to 10 percent from about 5.5 percent since 2009.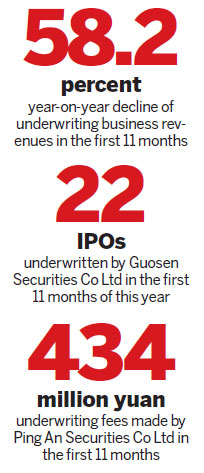 Underwriting business is now the third major source of income for brokerages after commission and proprietary trading.
But with all three sources drying up, net profit is expected to fall by 5 to 10 percent for Chinese brokerages for the whole of 2012, and the decline could be even larger for investment banks, the Securities Daily said on Wednesday.
One broker, Vivien Wei, said: "The gloomy A-share market is slowing down IPO approvals."
Chinese investors have long looked to IPOs as a staple investment. New listings have normally given investors outsized returns to lift their portfolios. "But the good days have gone," Wei said.
She said it is a weak year for initial public offerings, especially since late September.
Industry watchdog the China Securities Regulatory Commission has not released any pre-announcements - notices that should be made public a month in advance of an IPO - since late September.
A total of 105 companies went public in the first half of this year. But as China's main stock market keeps falling, fewer companies have been given permission to launch IPOs. Some 18 firms went public in July, 15 in August, 12 in September, four in October and one so far this month.
KPMG said in the survey of 109 brokers in China issued on Monday that brokers are facing growing pressure and challenges amid stiff market competition and are studying how to widen their product offerings and services, especially amid a sluggish stock market.
xieyu@chinadaily.com.cn